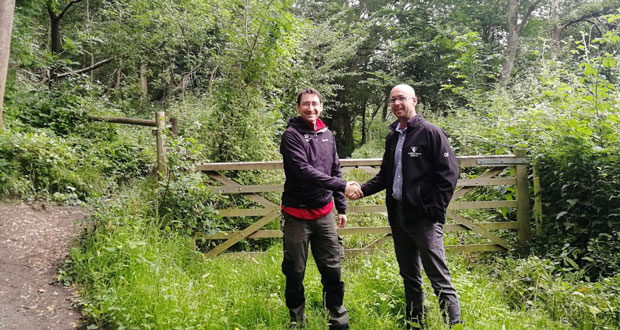 As part of its ambition to deliver environmental net gain, through its sustainability strategy 'Now or Never. Our decisive decade', Willmott Dixon has pledged to plant 10,000 trees a year over the next decade.
The approach will see both Willmott Dixon's Construction and Interiors businesses work in partnership with a range of charities, social enterprises and community groups and conservationists, located close to their construction projects and offices. This approach will focus on delivering environmental and wellbeing benefits, rather than solely the carbon benefits of tree planting.
Within its Construction business, the company's London and South team are supporting the National Trust to plant 1,200 trees at Coopers Hill woodland in Egham, Surrey. Coopers Hill is a Site of Special Scientific Interest, with many of the existing tree population being Ash, meaning the local ecosystem is suffering from Ash Dieback fungus.
In the North the company is also partnering with the National Trust to support tree planting by the River Aire, to increase the extent of the woodland and mitigate flooding.
In the company's Wales and West region, a partnership with Wanderlands will see 2,500 trees planted over the winter. The woodland, which will be accessible via a new walking trail, is mostly native broadleaf species, allowing for regeneration and restoration of biodiversity. Local schools will be involved with the design, which will incorporate a new outdoor educational space for students to enjoy.
In the Midlands, the company is working with the Woodland Trust to plant over 2,800 trees. These trees will be planted throughout Nottingham alongside the banks of the River Trent to help alleviate flooding and adapt to climate change, in conjunction with Trent Rivers Trust.
Finally, Willmott Dixon Interiors will partner with The Conservation Volunteers to plant a minimum of 3,084 trees across London, the Midlands and Leeds. Working with schools, hospitals and grassroots organisations the aim is to improve the environment for occupiers of these spaces.
Julia Barrett, chief sustainability officer at Willmott Dixon said: "We are delighted to finalise our 2021 programme of tree planting, which is a wonderful and positive legacy for the communities we work in.
"Delivering environmental net gain is critical to our projects, meaning we will leave the environment in a measurably better state than before, by providing valuable habitats to enhance biodiversity, through reducing flooding, and improving air quality. This also helps customers and their local communities by increasing their access to nature, which can measurably improve health and wellbeing."
The planting of 100,000 trees by the close of 2030 is just one of many commitments outlined in Willmott Dixon's 2030 Now or Never sustainability strategy, launched one year ago. The strategy commits to some of the most challenging science-based targets in the industry.
Six steps to facilities management in the post-pandemic world
As workplaces open up and restrictions lift the role of the FM has become more important than ever.
The challenges presented by the Covid-19 pandemic are now providing a valuable opportunity for FMs to demonstrate their skills and adaptability. Whilst on a practical level FMs are responsible for making buildings safe and comfortable, they are also crucial in attracting people back to the office.
In speaking with industry leaders, it is clear that there are six key areas of focus. Zip has published a white paper which looks at each one, suggesting ways that facilities managers can tackle the complexities and pace of a return to the workplace, whilst demonstrating clear and effective leadership along the way.
To find out more download the white paper here.