News
21.12.20
by Lucie Heath
The Welsh government plans to increase social housing grant by 22% next year, bringing the total expected expenditure to £200m.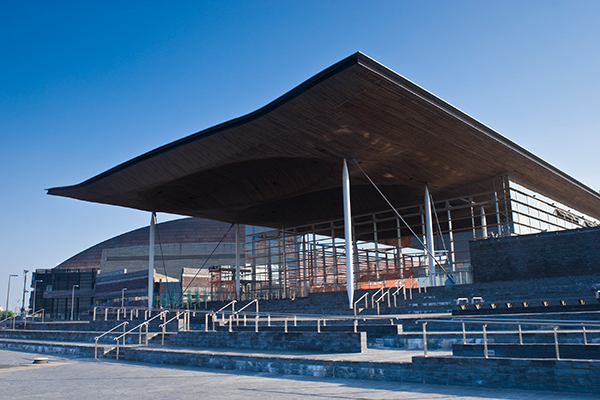 The Senedd (picture: Getty)
Sharelines
---
The Welsh government will increase social housing grant by 22% next year as part of a Budget it says prioritises housing and climate change #UKHousing
---
The Welsh government plans to increase social housing grant by 22% next year, bringing the total expected expenditure to £200m #UKHousing
---
---
In today's draft Budget for 2021/22, the Welsh government committed to increasing social housing grant funding by £37m to £200m, alongside a number of other investments that will affect the social housing sector.
These include a further £40m for the Housing Support Grant and £32m to help address building safety concerns.
The Housing Support Grant is the primary funding stream used to prevent homelessness in Wales. The government said this increased investment will enable it to build on the work it has done concerning homelessness during the COVID-19 pandemic.
Increasing the Housing Support Grant by £40m will enable the government to continue to "invest in our shift to a prevention and rapid rehousing approach to tackle homelessness in Wales", the Budget report said.
The £32m for building safety will be used for the remediation of defects, as well as the installation of sprinklers and evacuation alert systems in several affected high-rises.
It is in addition to the £10.6m invested by the Welsh government on building safety works this year.
Welsh housing secretary Julie James has previously said she does not believe the costs for building safety work should fall on the taxpayer, but said her department is also exploring funding options that will protect affected leaseholders from remediation costs.
A new phase of Help to Buy will also be introduced as part of the Budget, backed by £74m.
Meanwhile, the government will increase funding for renewable energy and reducing fuel poverty by £20m, bring the total expenditure for 2021/22 to £40m.
---
---
The Budget marks the last ahead of the elections for the next Welsh government in May 2021.
In its introduction to the draft Budget, the government said it is focusing on its priorities of "housing, combating climate change, and reinvesting in town centres to maximise the impact of our infrastructure investment".
If elected, the current Labour government has said it will commit to delivering at least 20,000 social homes over the five-year parliamentary term.
The government currently has a target of delivering 20,000 affordable homes by 2021.
Unveiling the draft Budget today, Welsh finance minister Rebecca Evans said: "As we plan for our first steps beyond the pandemic, this Budget is designed to protect health and our economy, build a greener future, and create change for a more prosperous, more equal and a greener Wales.
"Despite the most challenging circumstances we have ever faced as a government, I am proud to announce a Budget that delivers on our values and provides sound foundations for the next administration.
"While like-for-like funding per person in Wales remains below 2010 levels, our priorities will steer a course for stability, protecting what matters most and creating the change that is essential to a good recovery."
Stuart Ropke, chief executive at Community Housing Cymru, said: "In a year when the importance of home has been highlighted more than ever, we are delighted to see £200m of capital investment in new homes announced today. It is nearly three times the amount committed to social housing in 2016 and a reflection of the increased priority given to social housing in Wales over this Senedd term.
"The increase of £40m for the Housing Support Grant is also welcome news. This will allow housing associations and support providers to continue providing essential services to tenants and support people out of homelessness, which was vital throughout the pandemic.
"Combined, these investments give the housing sector a strong platform to build towards the ambitions set out in our home manifesto. Ahead of the Senedd elections next year, we need to see all parties commit to build on this level of investment, to support the construction of 20,000 social homes over the next five years that are energy efficient and affordable, supporting jobs, and improving the nation's health."
Matt Dicks, national director at CIH Cymru, said: "A focus on 'building' in today's draft Welsh government Budget for 2021-2022 is strongly welcome in what we recognise as a budget full of difficult decisions.
"Additional investment in social housing, ending homelessness and the environment will in practice help deliver the homes Wales sorely needs to ensure that everyone has access to a safe, affordable and accessible place to call home.
"The housing crisis existed long before COVID-19. Whilst the pandemic has brought into sharp focus the impact of both having and not having access to an adequate home, we must ensure that the momentum that will be created by the investments outlined today act as a starting point for supporting the sector over the course of the coming years."