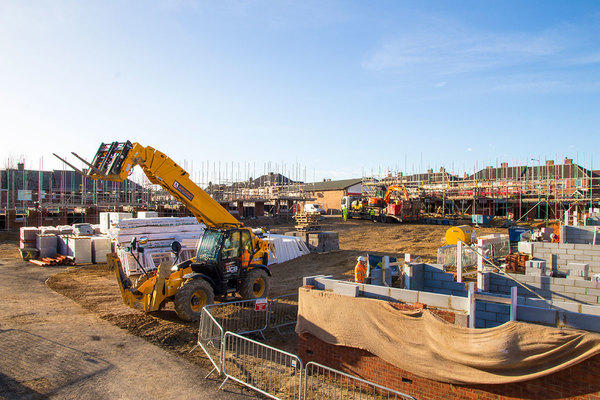 Half-year results for parent group Vistry Group, published this week, stated that the partnerships division will target revenues including joint ventures of more than £1bn by 2022, with a margin in excess of 10 per cent.
It said that this will be "driven by a rapid increase in higher-margin mixed-tenure revenues to 50 per cent of total partnerships revenues".
Stephen Teagle, chief executive of Vistry Partnerships, told Social Housing: "The growth in mixed tenure is really important to us as a business because what it means is… it does produce higher margin because it involves taking sales risk compared to straightforward contracting."
Currently 73 per cent of partnerships turnover relates to contracting work, including land-led work where Vistry introduces the land and enters into a 100 per cent 'pre-sold' contract.
Mixed-tenure schemes which could include sales, private and affordable housing then accounts for 27 per cent of the division's turnover.
Mr Teagle said: "We don't want to diminish the contracting and land led, that will continue at volume, but we want to increase significantly the mixed tenure which is where we buy sites and we deliver them for a mix of affordable homes and outright sale."
The 10 per cent operating margin being targeted represents the blend of margins achieved across different tenure types. Mr Teagle exampled a range of perhaps three to five per cent operating margin after overheads on an affordable scheme with no sales risk, to 18 to 20 per cent operating margin on an outright sales scheme.
"Each type of delivery has its own risk," he said. "Obviously if you've pre-sold it, your risk is much less so you accept a lower margin, that's the principle."
He added: "We're a returns-based business rather than a margins-based business and we are able, through selling half or two-thirds or whatever of a site, to blend those margins. And that's what the 10 per cent mixed tenure means – we should be trying to get to a blended position of sales and pre-sold of north of 10 per cent."
COVID-19 impact
In its half-year results, Vistry Group credited the "resilience of Vistry Partnerships" along with improved completions levels for an overall net debt position of £357m which it said was "significantly lower than forecast at the start of the COVID-19 pandemic".
The group has joined a number of large corporations, including Taylor Wimpey, in announcing that it will repay its furlough funding, with £6.3m due to be returned to the government.
Vistry Partnerships delivered a total of 489 units from mixed-tenure operations during the period, down from 574 in 2019 proforma, resulting in revenue of £88m compared with £94m last year. Contracting revenue totalled £223m, compared with £244m in 2019.
Combined, revenue from Vistry Partnerships in the half-year period totalled £311m, compared with £338m last year.
The results also cited an impact on margin in the first half across the business, including through additional costs directly related to the period of lockdown, lower levels of operating efficiency from social distancing and the lengthening of development period expectations. It identified a total of £10.2m of non-productive direct costs impacting the period.
Mr Teagle said: "This is beyond a recession… the requirement to respond has been far more fundamental, far more profound then I think it was in 2008.
"So in our figures then you can see the impact of that period of pause and you can see the impact in terms of how that's restricted our growth trajectory for this year, but it in no way diminishes our capacity to grow the business."
He added: "We're now working at a production rate and with a productivity pretty much at the level it was pre-COVID, which is pretty good."
Speaking to Social Housing in March, Mr Teagle called for collaborative approach to the pandemic and had an expectation that costs incurred would be shared.
Asked whether this had in reality happened, he said: "I would say the overwhelming experience in Vistry, 99 per cent, as well as probably in the sector as a whole is that the sector has behaved really responsibly and collaboratively around its response to [COVID-19]."
"We're seeing collaborative solutions with our partners who recognise the impacts of delay, recognise the fact that we have all had to adjust our operating procedures, all had to pause while we ensure that we build safely and have also supported us in mitigating those delays by coming up with some really excellent proposals to try and catch time up to try and improve the speed in which we deliver."