News
08.01.21
by Lucie Heath
The largest house builder in the UK completed 9% more homes in the second half of 2020 than it did in the same period in 2019.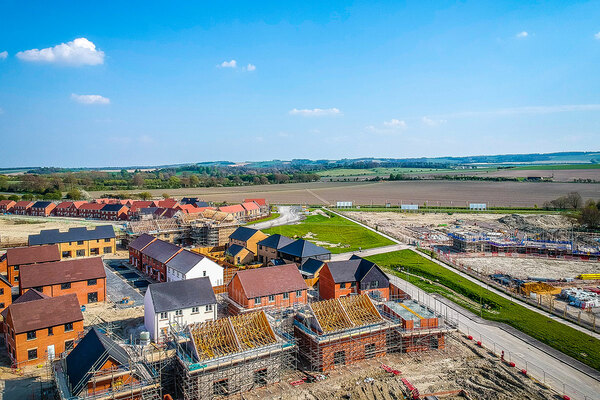 Barratt's completions increased in the second half of 2020, in part due to backlog from the first national COVID-19 lockdown (picture: Getty)
In a trading update covering the six months up to 31 December 2020, Barratt Developments said it completed 9,077 homes, compared to 8,314 during the same period last year.
Of the 9,077 homes it completed in the second half of 2020, 6,903 (76%) were private and 1,769 (19%) were affordable, while a further 378 (4%) were delivered in joint ventures.
Barratt said this growth was in part due to an increased level of work in progress at the start of the reporting period and a high number of forward sales caused by the delay in completions during the first COVID-19 lockdown in spring last year.
When COVID-19 first hit the UK last March, Barratt closed all of its sites and did not begin a phased reopening until the middle of May.
The house builder said its sites operated successfully in the latter half of 2020, despite the implementation of COVID-19 protocols.
---
---
Construction activity during the period was slightly ahead of planned output, with an average of 298 homes constructed per week, Barratt said.
But the company added that it now enters the first half of 2021 with a reduced level of work in progress, meaning there is a greater reliance on construction activity in the half-year ahead.
Overall, it expects to complete between 15,250 and 15,750 homes in the year up to July 2021.
Forward sales on 31 December 2020 sat at £3.2bn, up 19.4% from £2.7bn at the end of 2019.
Despite the introduction of a new national lockdown to combat a rapid surge in COVID-19 cases, Barratt said it is still able to continue site-based construction. Its sales offices continue to operate in Scotland and England, but they have been forced to close in Wales.
David Thomas, chief executive of Barratt, said: "Throughout the pandemic, our teams have worked hard to make our operations COVID-secure and our first priority continues to be keeping our employees, sub-contractors, suppliers and customers safe.
"I'd like to thank our people for their efforts in helping us to rebuild completion volumes, drive further operational improvements and deliver on our commitment to build the highest-quality homes across the country.
"Despite the ongoing challenges presented by the pandemic, we are confident that our operating performance and strong financial position provide us with the resilience and flexibility to respond to the operating environment in FY21 and beyond."