News
01 Oct 2021
by James Twomey
The Welsh city of Swansea is set for a £750m regeneration after the council gave the go-ahead on plans formed by developer Urban Splash.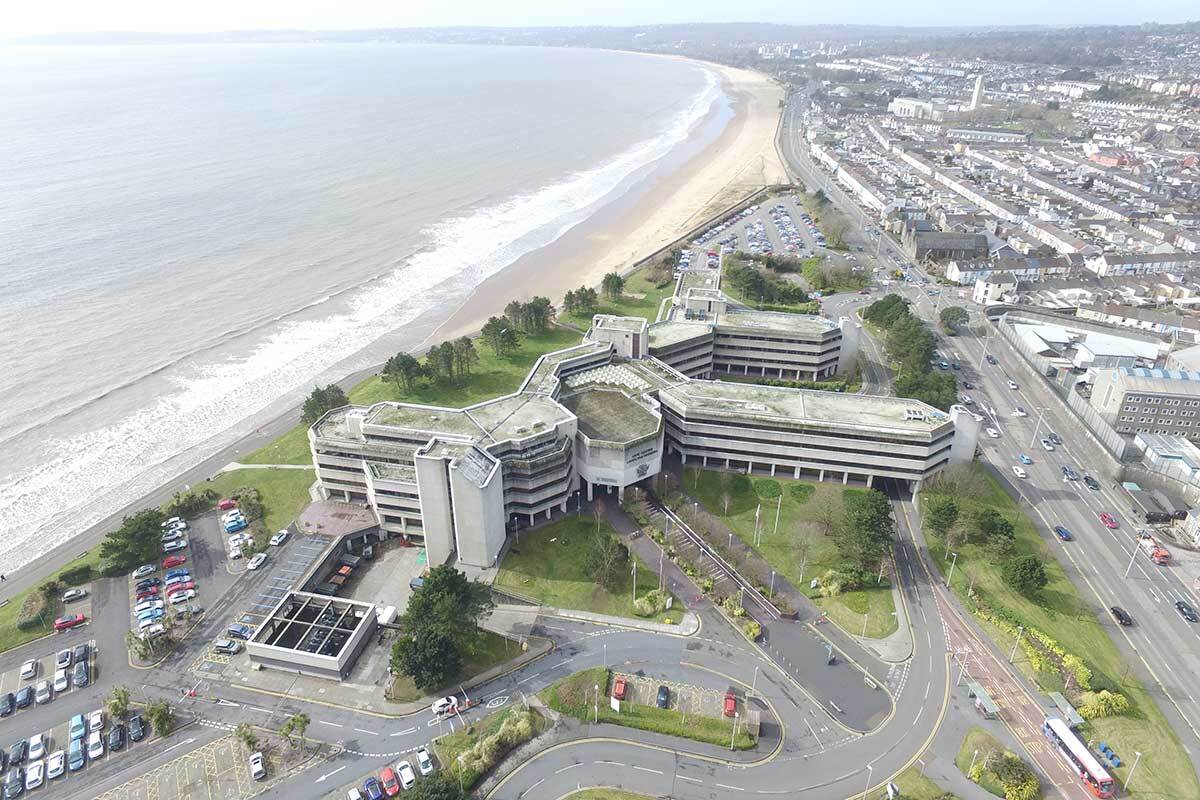 The Civic Centre in Swansea forms part of proposed regeneration (picture: Swansea Council)
Two housing associations, Pobl Group and Coastal Housing Group, have partnered with the project in a consortium that will see "hundreds" of affordable homes delivered – although the exact figure is yet to be confirmed.
Swansea City Council said the regeneration will focus on developing new homes and attractions along the coast and riverfront. A regeneration of a 7.5-acre riverfront site in the St Thomas area has been proposed, and will see new family homes and apartments created.
Early ideas for three key sites have been proposed, which will be developed in more detail before local people can offer their feedback.
Claire Tristham, director of development for the West at Pobl, said: "Pobl Group are part of the consortium led by Urban Splash who will deliver on the seven strategic sites identified by Swansea Council. We will be working with Urban Splash as part of the housing delivery on these sites.
"This is an exciting opportunity to deliver hundreds of much-needed affordable new homes throughout the city centre."
---
---
Urban Splash has run more than 60 regeneration projects throughout the UK in the past 25 years, including the Royal William Yard project in Plymouth where the company has transformed a collection of Grade I and Grade II Listed waterfront structures into apartments, workspaces, galleries, bars and restaurants.
The company has also been enlisted to redevelop the Grade II Listed Park Hill in Sheffield into a mixed-use cultural quarter, featuring hundreds of homes and workspaces – many of which are complete and fully occupied.
Jonathan Falkingham, co-founder of Urban Splash, said: "We have plans for a world-class environment of great architectural quality that recognises and enhances the existing historic fabric of the local area and its beautiful location.
"We hope to achieve this through multi-authorship and partnering with brilliant designers to evolve the most appealing and sustainable designs for each area of this new neighbourhood."
The proposals come as Pobl and Swansea Council near the end of a £135m development in Copr Bay, which is set to deliver 33 new affordable apartments.
Rob Stewart, leader of Swansea Council, said: "The appointment of Urban Splash is a significant private sector vote of confidence, not just in Swansea's enormous potential, but also in the huge amount of regeneration work led by the council that's already happening in the city, including our £135m Copr Bay phase one district.
"This work has acted as a catalyst to attract a company of Urban Splash's quality and experience, and is part of a £1bn regeneration story unfolding across Swansea that's transforming the city into one of the UK's best places to live, work, study and visit.
"The regeneration of these three key sites will help take Swansea to the next level by creating thousands more jobs for local people, hundreds more new homes for local families and a mixed-use, vibrant city centre destination with the footfall it needs to thrive."