News
09 Jun 2021
by James Wilmore
A trade body representing the UK's biggest property firms has launched a new committee to help "maximise" private sector investment in affordable housing.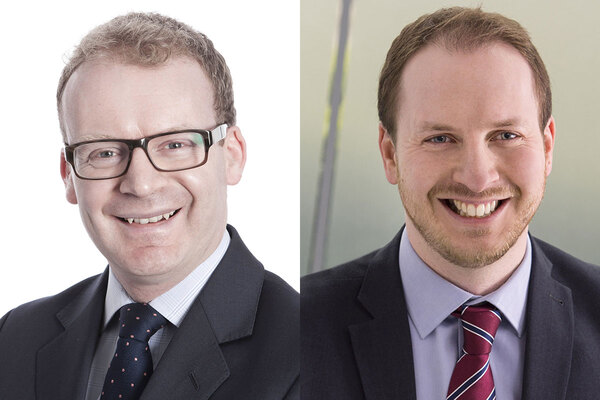 Rob Beiley (left) and Simon Century will serve as chair and vice-chair of the new committee
The British Property Federation (BPF) – whose members include developers, property owners and funders – said that its Affordable Housing Committee would look to "complement" the work of housing associations and councils in delivering affordable housing.
Melanie Leech, chief executive of the BPF, said the role of private capital in affordable housing is currently "poorly understood".
Part of the committee's focus, according to the BPF, will be "championing the real estate industry's investment into a high quality – and a more diverse and sustainable – affordable housing sector in the UK".
---
---
It also aims to improve the "industry's communication to government and engagement with governmental institutions such as Homes England, the GLA and Regulator of Social Housing".
Ms Leech said: "The real estate industry's investment plays a significant role in the provision of affordable homes in the UK, yet this is poorly understood and there remain significant opportunities to maximise our industry's investment into this sector."
The role of for-profit firms in the UK's affordable housing sector has grown significantly lately as companies such as investment giant Man Group, US private equity firm Blackstone, and Legal & General have made major plays.
But the moves have not been without controversy after the National Housing Federation took legal action against Blackstone-owned Sage Housing to prevent the group from calling itself a housing association.
Separately in March this year, Hyde struck a deal with M&G as part of a planned £500m investment in shared ownership properties.
Rob Beiley, partner at law firm Trowers & Hamlins, will chair the committee.
He said: "We have seen exponential growth in the real estate industry's investment in affordable housing in recent years and I know that the industry has the capacity to deliver more.
"I am grateful to have the support of such a highly experienced committee and together we look forward to working with government to maximise the opportunities that the industry has to deliver much-needed affordable housing at scale."
Simon Century, Legal & General's affordable homes and build-to-rent division director, will be vice-chair.
He said: "As ever [increasing] levels of long-term capital seek to enter, now is the perfect time to be bringing together like-minded housing associations, institutions and advisors who can work with government to help tackle the huge supply, funding and sustainability issues the sector faces."
Ms Leech added: "Everyone deserves a safe and comfortable place to call home, and while there is no silver bullet to fix the acute challenges facing the UK's housing market, we will need every housing sector – from homes-for-sale, buy-to-let, build-to-rent to retirement living, student accommodation and affordable housing – firing on all cylinders."
Members of the BPF's Affordable Housing Committee
Julia Bevan, Grainger
Chris Jeffs, M&G Real Estate
Peter Quinn, Watkin Jones
Charles Cleal, JLL
Charles Crowe, PGIM Real Estate
Natalia Kolotneva, LaSalle Investment Management
Catherin Webster, Quintain
Matthew Chillingworth, Federated Hermes
Olivia Harris, Dolphin Living
Tom Paul, Optivo
Debi Marriott-Lavery, Places for People
Kush Rawal, Metropolitan Thames Valley
Thomas Mudd, CBRE
Shamez Alibhai, Man GPM
Claire Kober, Pinnacle Group
Helen Collins, Savills