News
15 Sep 2020
by Rhiannon Curry
Credit rating agency Standard & Poor's (S&P) has affirmed its A rating for bond aggregator The Housing Finance Corporation (THFC), noting the organisation's "long and robust" record as an issuer and a lender, as well as the expertise of its management.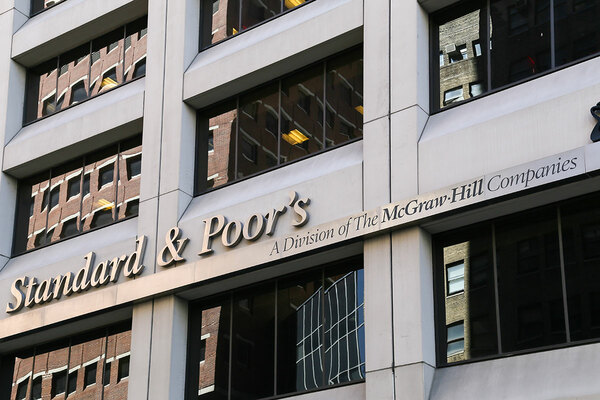 S&P said that the A credit rating reflects THFC's prudent approach to risk management (picture: Getty)
S&P said that THFC benefits from a strong financial profile and that the credit rating reflects the company's prudent approach to risk management, which the agency said would mitigate any adverse effect of a potential deterioration in the quality of its assets as housing associations face the aftermath of the COVID-19 pandemic and the lack of clarity regarding Brexit.
Because THFC follows a strict matched funding approach, it is able to minimise asset liability risk, and given that lending is on almost exactly the same interest rates and repayment schedule as the funds THFC borrows, it has almost no structural interest rate risk.
"We assess THFC's funding and liquidity position as strong, supported by a robust capacity to cover its liabilities, even under severe liquidity stress scenarios," the S&P note said.
THFC holds considerable levels of liquid investments, with a 12-month liquidity ratio of 2.3x, S&P said.
S&P generally noted the low risk profile of the social housing sector, which it deems to have strong resilience against future economic contraction.
But the credit agency did suggest that THFC could face increasing competition in the future, particularly from the Affordable Homes Guarantee Scheme and a deep UK bank and capital market, which housing associations can access directly.
THFC's management was singled out as having above average levels of expertise and experience. Unlike other UK-based public sector funding agencies, THFC has board nominees from the Regulator of Social Housing and the National Housing Federation, which enhances its oversight and underpins its asset quality, S&P observed.
---
---
As of March 2020, THFC had more than 145 individual borrowers and a loan portfolio of about £7.5bn. Most of its funding comes from issuing debt in the sterling capital markets.
The rating document noted: "Over the financial year ending 31 March 2020, loan growth has continued but, as expected, it was slower than in previous years, when business activity reflected the underwriting of loans under the affordable housing finance guarantee scheme. Therefore, net lending decreased to £128.3m in FY2020 from £348m in FY2019."
S&P noted that Blend – THFC's subsidiary that was set up in 2018 – had produced better-than-expected growth, surpassing the £500m threshold of issuance, an achievement initially targeted for 2023.
Piers Williamson, chief executive of THFC, said: "By focusing on prudent risk management and robust financial health we have been able to maintain our position as the sector's leading aggregator and one of the largest providers of very long-term funding to housing associations across the UK.
"We have been particularly pleased with the growth in our Blend vehicle where our fleetness of foot has permitted us to bring a number of borrowers to market very rapidly, even in uncertain markets."
He added that forecasts suggested that the sector will face "considerable market volatility" in the next three months, but that THFC is confident in its ability to consistently deliver low-cost, long-term funding for housing association borrowers.