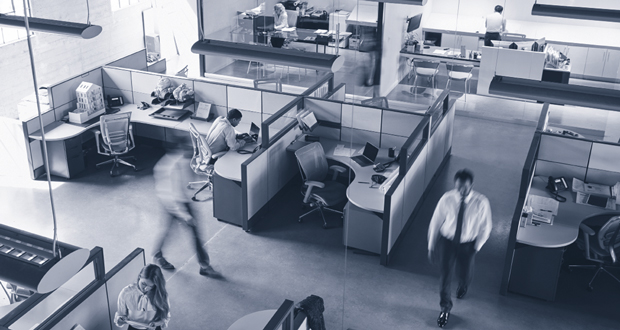 The delayed spring summit from Workplace Trends, which took place online earlier this month provided a useful snapshot of the latest applied research into work and the workplace. The presentations were all selected in a blind peer review by moderators, Nicola Gillen (Cushman and Wakefield) and Nigel Oseland (Workplace Unlimited) and were broad ranging; from the latest insights into occupant needs to the impact of the menopause on women aged 50-55 – the fastest growing demographic in the workplace.
One myth was quickly dispelled, that generation Z / post-millennials favoured a blurring of work and leisure. In fact, according to data from Fiona Duggan and Richard Jobson of Design Engine Architects they wanted "a clearer definition of what was work and what was home".
The research shows that despite the proliferation of spaces designed to foster engagement at work, it's most important to get the basics right. This means offering opportunities to carry out individual work, with workplaces offering similar services to a modern university library, including quiet areas for concentration, research-based areas and collaborative spaces.
This theme was repeated through many of the presentations. Research from the Leesman Index confirms that if you are interested in increasing performance, you need to provide privacy, connection and engagement. In an aligned survey by Herman Miller, over 70 per cent of clients say attraction and retention is their main aim and that the working environment really does affect motivation and performance
It's also important to discover "who and what is the end user", with the session on neuro-diversity and Workplace Inclusion by Kay Sargent and Julie Lecoq of HOK focusing on individual differences and recognising the workplace needs of the neuro-diverse.
"Covid 19 has made us reconsider time, how much we spend on things such as commuting, family time and more philosophically, how we spend the time we have on earth" said Bruce Davison of GoSpace AI in his look at the AI-powered team-centric workplace.
He believes the lockdown has given people time to consider the things they miss by working virtually, especially a lack of ad hoc conversations. Pre-Covid, offices were half empty but because companies couldn't work out how often people would be in, they added more desks but with less space. This will change he predicted, with a balance of designing the workplace to accommodate blended working, from home, working locally in hubs and attending a head office.
Contact centres haven't changed a lot over the last 20 years said Jo Upward, Platform Group, and are still largely based in low-cost out of town buildings. With huge numbers of contact centre workers working from home, many of whom report being happier with this arrangement, the sector shouldn't overlook the opportunity to create more appealing environments for "the people who are front facing for your organisation yet often not given the recognition". She reflected it was time employers recognised how important a role these people have, as "often they can be as the only human connection your customers will have with your brand".
So, the key takeaway of the day is that despite the pandemic leading to enforced working from home, the workplace will continue to meet our needs. The research suggests that for some, work can be more difficult to perform away from the office and there remains something about the workplace which offers occupants a feeling of identity and belonging.
Workplace Trends: Success in Uncertain Times – Virtual Conference, takes place on 15 October 2020 visit workplacetrends.co/events/london-oct-2020/ for details.