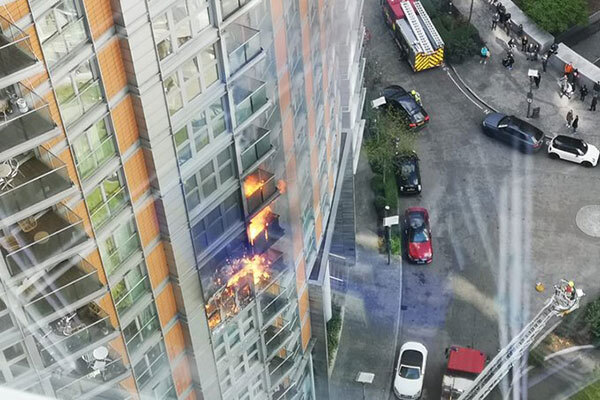 October 2018: It emerges that residents face a bill of £2m to remove ACM cladding from their block, with developer Ballymore refusing to cover the bill. In a letter to residents, David Pearson, finance director at Ballymore, said: "You will appreciate that the legal responsibility for costs to replace the cladding depends on the terms of the lease between the building owner and leaseholders.
"The lease in this case indemnifies the freeholder against the costs, given that the financial interest of the building is essentially owned collectively by the leaseholders and little economic value is retained by the freeholder.
"Given the age of the building, the warranty periods have expired so there is no legal recourse to pursue against builder and/or sub-contractor, even if we deemed this appropriate."
February 2019: After months of wrangling between leaseholders and Ballymore over the costs, the developer issues leaseholders with an ultimatum regarding the £2.4m remediation bill. In a letter sent to residents, it offers as a "goodwill gesture" to cover 20% of the costs and offer an interest-free bridging loan across three years. Ballymore gives residents two weeks to agree, or risk being hit with the full costs. Even with the contribution, leaseholders still face bills of thousands of pounds for the work.
March 2019: A petition signed by 203 people is sent to Tower Hamlets Council and calls on Ballymore to carry out remedial works and cover the costs. The council responds by saying it has met with Ballymore and told it that it "stood ready" to use enforcement powers if sufficient progress was not made. According to the council, Ballymore informed it that it would be issuing a revised offer.
May 2019: Due to the slow speed of remedial work on private blocks with ACM, the government creates a £200m fund to cover work for building owners of private blocks.
September 2019: The £200m private sector cladding fund opens in June and by September more than 80 blocks have applications for funds approved for funding.
March 2020: Coronavirus pandemic begins, and cladding work and construction work stops across the country.
January 2021: Government publishes its first 'name and shame' list, highlighting those building owners who have yet to start work to remove ACM from their blocks. Ballymore-owned Landor Residential, the owner of New Providence Wharf, is present on that list.
April 2021: Ballymore responds to a piece by Inside Housing looking into the companies on the 'named and shamed' list, explaining why work has taken so long. Ballymore confirms it has secured £8m of government grant funding to go towards cladding removal work.
Ballymore wrote: "We are committed to delivering a safe and comfortable environment for all our residents, which is why we maintain management of our estates even after all the homes are sold.
"Crucially, the work needed to replace the ACM cladding on this building is extremely complicated, much more so than the installation of a new build facade. Our building is horseshoe-shaped, opens directly onto the River Thames, accommodates 559 apartments across five blocks and is fully occupied by more than 1,000 residents.
"To replace elements of a building facade, under this set of circumstances, is an extensive process. We have a project team of many different professional disciplines in place, who have already committed months of focused attention and meticulous work to arrive at both a workable and cost-effective solution.
"This project is well under way and a start on site is anticipated this April."
May 2021: A fire breaks out at New Providence Wharf spreading across multiple floors, hospitalising two and leading to more than 40 people being treated for smoke inhalation.