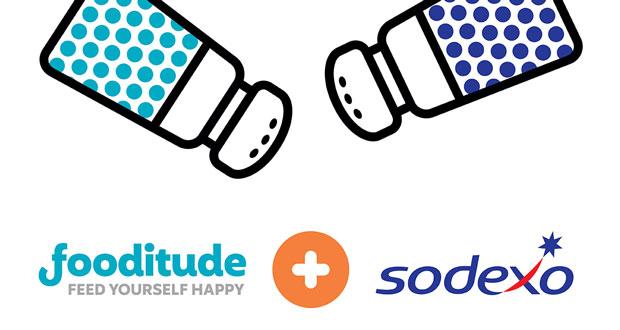 Today sees Sodexo launch London-based 'delivered-in' workplace catering provider, Fooditude, in Ireland and the opening of a new cloud kitchen in Dublin.
Fooditude has been operating since 2005, with household name clients that include Netflix and Pinterest, and in December 2020 Sodexo acquired a majority shareholding in the company, allowing the business to grow new digital-enabled and consumer-focused food services to support its mission to keep its clients' employees happy, healthy and well-fed.
As organisations move towards hybrid working models, they are looking for more flexible and cost-effective support services. Fooditude, with its track record in fresh, fun, on-trend menu options, allows organisations to offer food as a benefit to entice employees back to workplaces, supporting the role of the office as space for collaboration and connection, and building employee productivity, health, and wellbeing, says Sodexo.
Food is ordered in advance via the Sodexo Twelve Pay app that provides a seamless 'order-to-delivery' experience. Fooditude's offsite production capability allows organisations to review their real estate and re-model existing kitchen space for valuable business activities.
The launch of Fooditude in Dublin is an exciting step in the evolution of Sodexo's Vital Spaces proposition, which brings together the company's diverse expertise to provide employers with a new approach to help them transform their workplaces through a connected, people-centric approach.
Commenting on the news, Julie Ennis, CEO corporate services, Sodexo UK & Ireland, said: "Our investment in Fooditude is a crucial element in the evolution of Sodexo's workplace food services. Organisations are rethinking the way they work, reviewing their office footprints and the purpose of those spaces, so it is crucial we have the right flexible, digitally-powered food services to meet our clients' and consumers' needs.
"We are delighted to take Fooditude to Dublin. We see significant potential to establish and grow the business there, with clear benefits to our current clients as well as an offer that will help us grow our Ireland business and target new clients in the city's fast-growing technology and media sectors."
Fooditude continues to be run by husband-and-wife team Dean and Samantha Kennett, who have strong personal connections to Ireland. A craft team will operate out of its new Dublin cloud kitchen at Clarehall in Santry.
The Fooditude team will be preparing sustainably sourced, seasonal on-trend office catering delivered daily by its 'dotty' vans to clients in the Dublin area. Typical lunchbox menus can include sticky pomegranate chicken, toasted sesame root veg and smoked quinoa; green tea roast salmon with soba noodle kale salad; grilled smoky steak with black bean, cumin, and coriander red rice salad; sesame tamarind tofu with rice noodles and an aubergine caponata. All sourcing is done from Origin Green verified suppliers.
Fooditude co-owner and former chef Dean Kennett was virtually meeting prospective clients and showcasing the company offerings at the Dublin Tech Summit on 17th June.
He said: "Our London clients have been asking us to come to Dublin for a while and now we're here! We have over 15 years of experience in bringing food and fun to the workplace. Our motto is 'feed yourself happy' because there's nothing like a tasty meal to put a smile on everyone's face – and we're looking forward to putting a few smiles on faces in Dublin!"
In Ireland, Sodexo provides integrated workplace services to clients in business and industry, tech, education, financial, pharma and healthcare. Those services include workspace transformation to improve employee experience, food services, facilities and estate management.