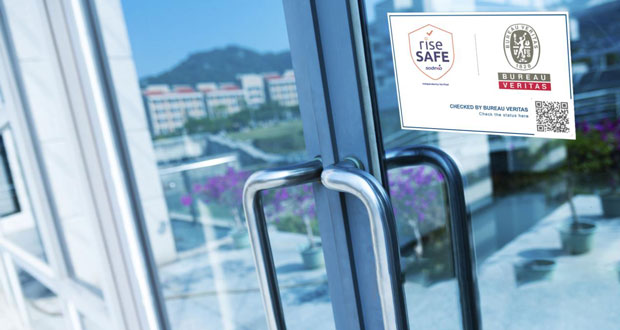 Sodexo's team at Richmond, the American International University in London has received the Rise Safe label from Bureau Veritas.
Introduced in June 2020 the Rise Safe label provides reassurance that Sodexo's team has successfully implemented measures to ensure the University is Covid-19 secure and has received a Certificate of Assurance from Bureau Veritas, a world leading testing, inspection and certification company.
The audit required Sodexo to implement appropriate measures, policies and procedures, in accordance with local and national guidelines and WHO guidance to reduce the risk of Covid-19 transmission.
Each assessment has two stages – a support system assessment and online site assessment. Sodexo and the University passed both assessments with just a handful of suggested improvements.
Sodexo's 30 plus-strong team delivers a range of services at the University including cleaning, security, catering, reception, maintenance and energy procurement.
Bureau Veritas highlighted a number of Sodexo's processes for the successful certification, including:
A comprehensive range of Covid-19 mitigation measures on campus
Sodexo's Covid Campus Outbreak Plan endorsed by the Richmond Borough Director of Public Health
Weekly Covid-19 update meetings with core team
Simon Knight, MD, Universities, Sodexo UK & Ireland said: "We're delighted with the Bureau Veritas certificate as it provides independent assurance to students and their parents, staff and faculty, that we have excellent health and hygiene protocols in place. The successful assessments are a result of our collaborative approach between the University and Sodexo since the very start of our partnership."
Dean Morley, Chief Operating Officer and Director of HR for the University, added: "The last 18 months have been really challenging for everyone so we're thrilled with this award which recognises the high standards and dedication of both Sodexo and our excellent student affairs and estates teams. The certificate is also testament to all of our staff and faculty who have worked diligently throughout the pandemic to ensure that the University is safe for everyone."
Six steps to facilities management in the post-pandemic world
As workplaces open up and restrictions lift the role of the FM has become more important than ever.
The challenges presented by the Covid-19 pandemic are now providing a valuable opportunity for FMs to demonstrate their skills and adaptability. Whilst on a practical level FMs are responsible for making buildings safe and comfortable, they are also crucial in attracting people back to the office.
In speaking with industry leaders, it is clear that there are six key areas of focus. Zip has published a white paper which looks at each one, suggesting ways that facilities managers can tackle the complexities and pace of a return to the workplace, whilst demonstrating clear and effective leadership along the way.
To find out more download the white paper here.