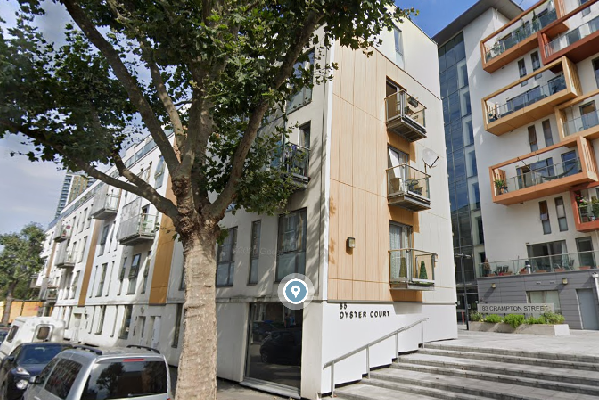 Ms Prithchard has also been left confused as to why Optivo is acting so quickly on a building that appears to be low risk due to its height. "They tell us they want to do everything for our own safety, but where is the debate to say 'actually, you know what I'm prepared to live with the risk'."
She said that within the building there is a maximum of three flats per floor and and believed that everyone is within three metres of a fire escape.
Ms Pritchard understands that the main cause of concern with the building, built in 2007, is the fire breaks, insulation, and wooden balconies.
She claimed the remediation work is starting next month, but the residents have not been shown a copy of the survey outlining the buildings' issues. "We've been told work is starting on site in November and there is already equipment on site," she said. "They (Optivo) are moving through this at breakneck speed."
The block next to Oyster Court, known as Flamingo Court, with social housing tenants, is also undergoing remediation work and Ms Pritchard believes the move to work on her block could be linked to this.
It is understood that Optivo has reviewed all its blocks and found that 7% require remediation work, with Oyster Court being one of those.
In a statement Optivo said: "Our number one priority remains keeping our residents safe in the building they live in.
"We've explained in the letter we sent to residents at Oyster Court that our understanding of the government's finance scheme is that the monthly cladding repayment costs should not exceed £50 per month. This is because Oyster Court is between 11 to 18 metres in height. Optivo and other housing associations are still awaiting clarity from government on this. It is vital government provides details of the finance scheme to the housing sector as soon as it can."
It added: "We completely understand the situation around fire remediation costs is continuing to cause concern for affected leaseholders, including our residents at Oyster Court.
"We empathise with the difficult position leaseholders find themselves in and we'll continue to lobby the government to protect them from these costs."
In its most recent annual report, Optivo said it expects to spend £251m on fire safety works over the next 10 years. The G15 group of landlords has estimated that its 12 members will have spent £3.6bn on building safety work by 2036.