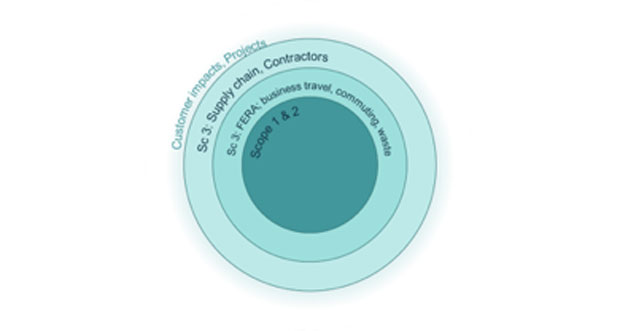 As part of Net Zero Carbon Week (17-23 July) the Sustainable Facilities Management Index (SFMI) and BAM FM have teamed up to develop a framework that will provide a standardised approach for the FM community to measure emissions from its services, and support organisations with their zero carbon journey.
The Problem
"An FM's carbon impact is larger than many will report. This means the industry is not positioning itself as a solution but is shying away from the problem".
Chris Havers SFMI Programme Director
Net zero carbon has become a business requirement driven by the global impacts that we are seeing, regulation and by employees. Only a few of the FM industry has seen Net Zero as an opportunity to deliver greater value to clients. But to truly provide solutions to reach net zero, the industry must understand its impacts.
Currently, most FM providers see their impacts as their direct emissions only (Scope 1 & 2 in technical talk) – This includes the fuel from transport and their building operations. Some go a little further and measure their indirect emissions from business travel and waste if they are more advanced – this is part of scope 3. As a whole, this represents less than 20% of the providers full impacts and means that most of the carbon emissions are going unmanaged and unreported , particularly for some stating being net zero.
Measurement of the Scope 3 areas is critical to help understand the impacts from the FM sector and the services provided, and necessary to allow for decisions in procurement and operations to reduce these impacts.
The SFMI is partnering with BAM FM to measure the emissions impact that can be saved by customers and integrated into the scope 3 reporting boundary. This will be achieved by setting a standard for the industry that will give FM a rulebook for categorising and measuring emissions of the services that they deliver based on recognised emissions accounting processes.
Why is this important? This project is all about the positioning of the FM as a solution provider.
FM needs to drive the conversation on the carbon impacts it can deliver and their decarbonisation journey, which will increase the value of FM services.
When services and their impacts are measured, we can innovate and deliver a decarbonisation journey.
Relationships will improve across the supply chain as the FM aligns with customer zero carbon values that are now becoming business imperatives.
The selection process for FM services can be improved and integrate carbon reduction pathways.
The FM can position itself as a strategic partner to deliver net zero.
BAM FM is a long-time partner of the SFMI and fully recognise the importance of engaging with customers on their zero carbon journeys. BAM FM have a proven track record of delivering sustainable solutions and have embedded their 'Net Future Positives' strategy into their core business values. This coupled with BAM's wide range of service offerings and client bases makes them a great partner for this project says the SFMI.
James Wimpenny CEO BAM UK commented: "As a leading company in our sector, we know we need to be more efficient and get our own operations to net zero. We can also make an even bigger impact by helping clients remove carbon from their existing estates and future buildings, both in terms of how they operate, and the materials used to build and maintain them."
The partnership between BAM and the SFMI will deliver two key public reports that will set the vision, rules and boundaries for the measurement of carbon within the services that FM offers. As part of the project, the SFMI will look externally to seek critical review to ensure that the approach will have industry acceptance. As a customer focused industry, this will give FM the tools to communicate and adapt its services to reduce its impact by being accountable and responsible for emissions within services.
FMJ and Grundon Waste Management have launched the 2021 waste and recycling management survey. It's the fourth year for the annual appraisal of how FMs manage their waste and recycling activities and one which marks an unprecedented period of disruption to services due to the pandemic.
In order to understand how FMs have navigated their way through the last year and their plans for meeting stringent waste and recycling targets we've posed a series of questions – aided by the advice and experience of our editorial steering committee.
The results of the 2021 survey will be published in FMJ magazine and form the basis of a white paper co-written by FMJ and the experts at Grundon on how to approach waste and recycling strategies.
To take part in the survey click here.
About Acclaro Advisory and the SFMI Acclaro Advisory (www.acclaro-advisory.com) aims to support organisations on their environment, social and governance journeys, and help them achieve zero carbon. The SFMI is a product of Acclaro Advisory. The SFMI was created to enable FM providers to improve their sustainability performance, embed sustainability into their staff behaviour, and be challenged on the next step in their sustainability journey. The SFMI assesses, educates, and advises so businesses in and around the facilities management space can build new thinking and processes into their day-to-day, and see the value on the bottom line now and in future.