News
03 Dec 2020
by Gavriel Hollander
Delegates at the Social Housing Annual Conference this week have warned that a combination of political and economic factors could constrain housing associations' (HAs) ability to build new homes.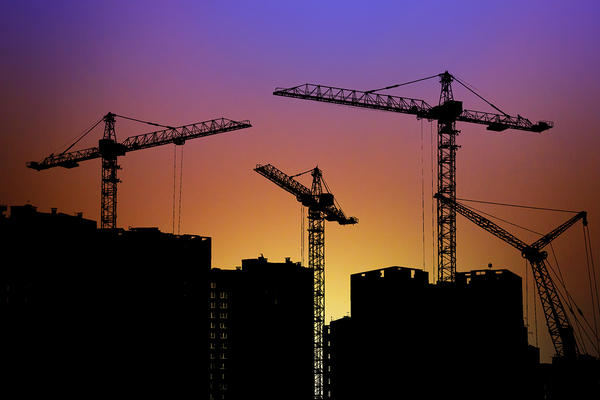 The potential scrapping of Section 106 deals has been cited as a major challenge to housing associations' business plans (picture: Getty)
House price volatility, uncertainty over future rent-setting, the potential cost of fire remediation work, an increase in arrears as a result of the COVID-19 crisis, changes to the shared ownership model and the potential scrapping of Section 106 deals were all cited by leading sector figures as among the biggest risk factors in their short and medium-term business planning.
Speaking at the conference, Matthew Bailes, chief executive of Paradigm, said that asset management represents "probably the area of biggest movement within our business plan", partly because he believes that the government's £1bn Building Safety Fund would prove insufficient for the removal of cladding on homes across the sector.
"We have an unholy Mexican standoff on fire remediation in the short term where a combination of developers, contractors, insurers, leaseholders, government, freeholders – including us – are all working out who is going to pay for this," he told delegates. "I don't see a route map out of it unless government does something different. The money on the table isn't enough.
"We may end up funding some of this and then [use the] right to recourse to whoever got the thing wrong in the first place. It will at least at the margin add to our costs."
Mr Bailes also said that "most" HAs would have seen "at least a modest tick up in arrears" over the course of the COVID-19 pandemic and that this would lead to an increase in bad debt across the sector.
---
---
There was also "a big question" over the whether associations could rely on future rent increases because of the ongoing economic uncertainty. "There's a risk around CPI being low," he continued. "There's a risk CPI spikes and we never get to the full benefit of that [so] I'm not certain we can bank on CPI plus one [per cent rent increases] for evermore."
Concerns over rent-setting were echoed by Richard Petty, head of UK Living Advisory at JLL.
"We've got what the government like to think of as a long-term rent settlement [but] it is not a long-term rent settlement at all," he said. "Five years is not long in planning or valuation terms. And we've seen greater risk of political interference in housing and the housing market in the last five years than we've ever seen before."
Mr Petty added that the expected continuation of low interest rates should not lead HAs to anticipate being able to rely on low discount rates in the future on social housing: "We shouldn't expect a straight-line correlation between low interest rates and much lower discount rates."
Speaking at a later session, Jane Gallifent, development and sales director at 32,000-home Aster Group, said the government's proposed planning reforms, including the replacement of Section 106 with a more general purpose Infrastructure Levy, would leave "a big gap" in many HAs' development plans.
Ms Gallifent said that 70 to 80 per cent of the group's development had traditionally come through Section 106 sites, and even though it was "moulding our strategy" to become more land-led, any move to scrap or reduce Section 106 could affect its plans to build 10,300 homes over seven years.
"There are a host of options but Section 106 sites have been the main delivery vehicle for us and local authorities," she told delegates. "We want to become less dependent [on it], but like it or not, we still need it.
"The housing sector is making a lot of noise that any changes to planning should still seek on-site provision [because] wiping it out completely would create a big gap. If First Homes was implemented we would see a reduction in the delivery of affordable homes.
"If you want to do social rent or affordable rent that possibly is going to divert you into delivering your own land or looking at more of a partnership approach."
Ms Gallifent added that HA boards would have to decide on how much risk appetite they had when assessing whether they could carry on with their existing development programmes "on the basis that Section 106 delivery will either change, reduce or disappear".
She added that many factors went into stress-testing business plans: "We have building safety, fire safety, zero carbon [and] all sorts of competing challenges.
"How are we going to fund it? Whether Homes England [will make grant subsidy available], whether you are cross-subsidising through private sale or using alternative funding models. All of that [goes into] the sausage machine to determine whether or not you can retain your programme as it stands."