News
13.10.21
by Peter Apps
Leaseholders of a tower block in Salford face bills of up to £20,000 to remove dangerous cladding, after the government offered full funding for the remediation work and then withdrew it due to an "error".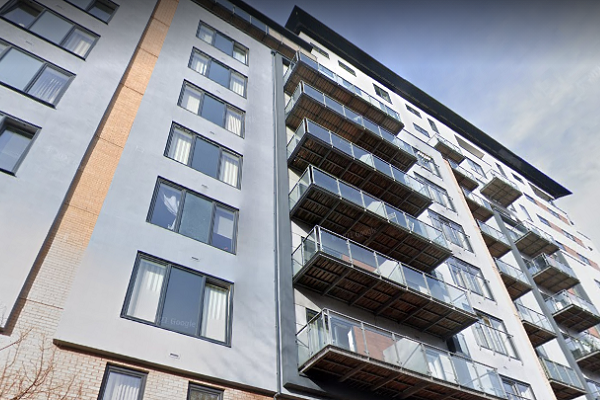 The XQ7 building has three varieties of cladding that require remediation, a report says (picture: Google Street View)
Residents of the XQ7 building in Salford told Inside Housing of their "heartbreak" after the government withdrew its approval for funding for one of the three types of cladding on the building's walls, leaving leaseholders likely to foot the bill.
Ben O'Sullivan, a leaseholder at the block, said: "It was just horrible. We had six months of living with the burden being lifted completely after two years of hell. It was just heartbreaking to be thrown back into that position.
"People in this building are first-time buyers – all their money is in those flats. We don't have the money just lying around to pay the bills and of all the stakeholders involved, we are the last ones who should be paying.
"We were told we had full funding – people booked weddings and bought cars. Me and my girlfriend were in the process of buying somewhere else. That's all been put on hold now. The total farce of this whole process, it's heartbreaking."
---
---
The building's management company had applied to the government's Building Safety Fund seeking money to pay for the removal of three different types of external wall cladding: render, high-pressure laminate (HPL) and brickwork.
All of them had been identified as unsafe in an 'External Wall System 1' report in March 2020 due to either their combustibility or issues such as missing firebreaks and required expensive remediation work.
On 1 April this year, the government confirmed that funding would be provided to cover the entire £10.5m cost, and leaseholders were informed that works would start shortly.
But over the summer, the government contacted them again to say that the funding would in fact be limited to the HPL. They blamed this on an "error".
After an appeal, the brickwork has also been included but the render remains outside the scope of the fund. Mr O'Sullivan said this covers around half of the building.
It is understood that the issue with the render is not its combustibility but missing cavity barriers, which is not covered by the government's fund.
A spokesperson for Zenith Property Management, the managing agent at the block, said that its client, XQ7 Management Company, is "now assessing what options are available to leaseholders".
"The collection of service charge monies for works of this nature are very complex and may require expert advice before an agreed course of action can be taken. All leaseholders will be notified of progress as soon as this is available," the spokesperson added.
"Both XQ7 Management Company and Zenith believe that all works should be included within the remediation to ensure that remediation can be completed without burden to leaseholders who are in no way at fault in this matter. Please be aware that both the resident directors and ourselves are working incredibly hard to avoid/minimise any costs borne by leaseholders."
The precise cost of the remaining works has not been given to leaseholders yet, but Mr O'Sullivan said they believe it will be in the region of £20,000 per flat.
He said they have been told that an option would be to contact mortgage providers to extend their loans if they are unable to pay outright.
If service charge notices are issued, anyone who cannot pay faces forfeiting their lease and losing their home.
The block was built in 2008 by a developer that has since gone bust, leaving no recourse to sue for the works.
Mr O'Sullivan added: "I think about the cladding situation every hour of every day. You start to think about the next steps of your life and you can't stop thinking about it. And to have that lifted but just get an email saying that's an error, to me it seems to show a lack of understanding of the impact this has on people's lives."
The Department for Levelling Up, Housing and Communities was contacted for comment.