News
25 Jun 2021
by James Wilmore
Riverside and G15 landlord One Housing have revealed they are in merger talks to create a 75,000-home landlord.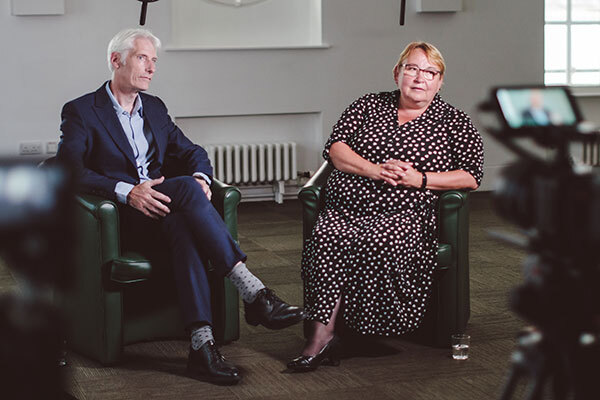 Richard Hill and Carol Matthews (picture: Lukas J Smith)
The two groups announced yesterday their boards had agreed an "outline business case" this month with the aim of completing a tie-up by the end of this year.
One Housing, which recorded a deficit in its last reported full year, said it was seeking a partner with "financial strength".
If successful, the deal would see 17,000-home One Housing become a subsidiary of Liverpool-based Riverside, which owns and manages around 58,000 homes. It is expected the G15 landlord would then fold into the Riverside group after two years.
One Housing posted a pre-tax deficit of £8.6m in its last reported full year to March 2020, as it was hit by fire safety costs and the early impact of the pandemic. The results also reflected "the consequences of legacy decisions and historic underinvestment", according to then-chair Steve Douglas.
Richard Hill, chief executive at One Housing, said at the time the results were "not at a level that would be sustainable if they were repeated year-on-year". It has estimated it will have to spend £265m over the next 10 years on fire safety work.
---
---
On its website, explaining the rationale for the tie-up, One Housing said it is "looking for a partner with financial strength, so that together we can become more efficient and effective, investing even more in delivering better services and building more homes".
The G15 group was downgraded from G1 to G2 in January this year, partly as the regulator said its decision-making had "not been consistently supported by accurate data".
One Housing said it is "a robust organisation with strong liquidity and assets in some of the most expensive areas in the country".
But it added: "With the twin challenges of building safety and achieving zero carbon, on its own it would have some difficult trade-offs to make, with limited resources for building new homes and estate regeneration."
The group is currently planning to deliver around 3,400 new homes over the next 10 years, with around 40 per cent of these for market sale and a quarter for shared ownership, according to the regulator's notice published earlier this year.
The two groups said a tie-up would enable them to jointly build 40 per cent more homes than currently planned.
Terrie Alafat, chair of Riverside and former chief executive of the Chartered Institute of Housing, said: "There has never been a greater need for our homes and services, but we operate in an environment which is getting tougher, as the challenges faced by our customers intensify and standards rise – especially those relating to building safety and carbon reduction.
"This has led us to discuss how together, through a bigger and stronger group, we can deliver more for residents, customers and communities."
Both groups operate in the care and support sector, offering specialist supported housing and retirement living accommodation.
Speaking on a video about the proposal, Carol Matthews, chief executive at Riverside, said: "It's unusual to find large groups that are prepared to do some of the difficult stuff around care and support that's got very thin margins.
"At the same time we want to provide more homes and take the risk around open market sales to cross-subsidise affordable and social housing rents."
The majority of Riverside's stock is in the North of England and the Midlands, although it does have homes in the South East. Most of One Housing's homes are in London.
The groups said: "The new partnership puts us in a position to be a group with a national footprint and a stronger voice in the UK-wide discussion around affordable housing."
The tenants of both groups will be consulted about the plans, but there will not be a tenant ballot. "Views will be taken into consideration by both boards before a final decision is made," the groups said.
This year has seen a number of high-profile merger attempts fail. Southern Housing and Sanctuary Group abandoned a proposed deal in April, while talks between PA Housing and Accent failed to get to the due diligence stage.