News
01.04.21
by Dominic Brady
A 1,700-home regeneration project in Southend has received planning approval from the council.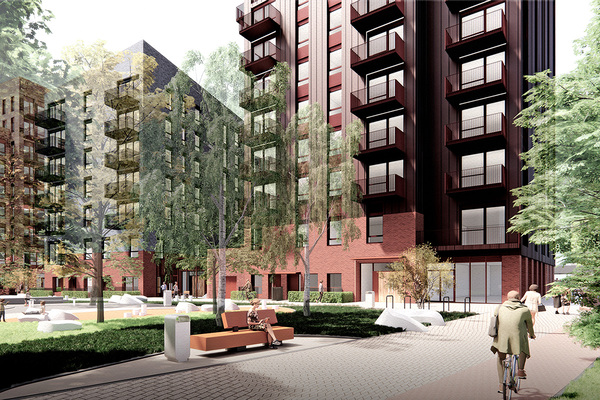 The proposed design of the Better Queensway regeneration project (picture: Swan)
Porters Place Southend-on-Sea LLP, a joint venture between Swan Housing Association and Southend-on-Sea Council, has been given the green light for an estate regeneration that will deliver 512 affordable homes.
The Better Queensway regeneration project will involve the phased demolition of the four existing tower blocks on the Queensway Estate to be replaced with up to 1,760 new homes. Up to 300 of these homes will be for social rent, while Swan and the council are intending to deliver an additional 100 "genuinely affordable homes".
Swan, which owns and manages 11,000 homes, was first selected as the council's partner on the project in 2019.
---
---
The partnership said the project will bring £500m investment into the existing Queensway Estate and will be a catalyst for further improvements to Southend-on-Sea town centre.
Geoff Pearce, chair of the board at Porters Place Southend-on-Sea and deputy chief executive of Swan said: "The Better Queensway regeneration project will transform Southend-on-Sea not only through the redevelopment of the existing estate but by improving the lives of existing and new residents.
"At a time when many towns are calling for investment to help improve the local area, we are confident that the £500m-plus investment in the Better Queensway regeneration will help ensure that Southend-on-Sea doesn't just recover from COVID-19 but thrives and becomes an exemplar scheme driving economic recovery, well-being and supporting the community."
Alison Griffin, chief executive at Southend-on-Sea Council, said: "Key within the borough's 2050 ambitions is providing additional housing to meet people's needs, creating opportunity and prosperity through new jobs and attracting investment to Southend-on-Sea.
"The Better Queensway regeneration scheme goes a long way to delivering those ambitions and we are pleased to be able to progress the project."