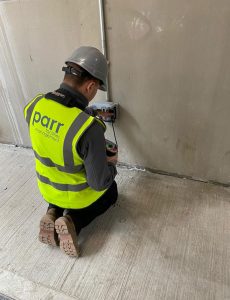 Parr Facilities Management has announced the renewal of its ISO/IEC 17020:2012 accreditation for electrical inspection the United Kingdom Accreditation Service (UKAS).
Speaking about the renewal of the accreditation on behalf of Parr FM Brian McGivern, Technical Manager, said: "The UKAS accreditation is recognition of our electrical team at Parr FM carrying out electrical testing & inspection works to the highest possible standard. UKAS are an organisation known globally as an expert in certifying the competence and quality of a company. This accreditation will provide further reassurance to our clients that we aim to provide the highest standards possible in the services we deliver."
Parr FM specialise in delivering planned maintenance and compliance services across the UK & Ireland, with UKAS further highlighting the companies leading credentials. This planned service is complimented by a 24/7 a reactive maintenance service which is overseen by Parr FM's in-house helpdesk team of 16 staff.
Parr FM currently employs over 100 members of staff across its Belfast, Manchester and Dublin offices, and has shown exponential growth over the past three years, picking up contracts with Co-op, BUPA & Whitbread.