News
22.11.21
by Grainne Cuffe
Optivo has announced a £106.5m partnership with for-profit provider Sage Housing.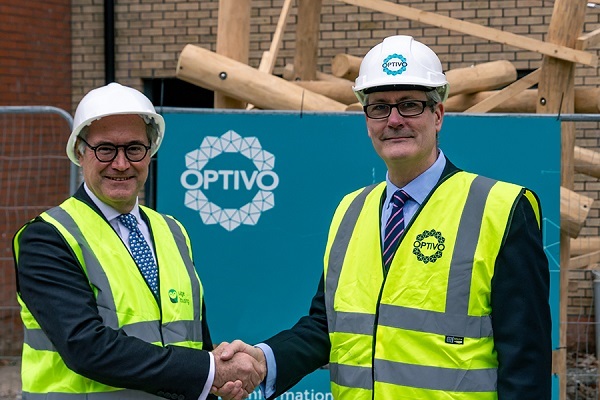 Mark Sater, Sage CEO (L) and Paul Hackett CBE, CEO Optivo (R)
The deal will see Sage, which is owned by private equity firm Blackstone, fund 420 new homes from Optivo's development pipeline.
The 45,000-home housing association will manage the homes, set to be a mix of rented and shared ownership properties spread across six sites in London and the South East. Just over a third of the homes – 155 – will be for social rent, affordable rent or London affordable rent.
Optivo is also set to receive funds from the £12bn Affordable Homes Programme to go towards the homes.
The partnership was approved by Homes England and City Hall and will also involve some grant-funded homes.
---
---
Earlier this year, senior sector figures told Inside Housing that housing associations are increasingly looking to partner with for-profit providers to fund some of their development pipelines.
The model, which would see housing associations own fewer of the properties they build, is in part driven by financial pressures, such as from building safety measures and decarbonisation.
One such deal was announced by Hyde in March, which will see investment giant M&G fund a £500m pipeline of around 2,000 shared ownership homes.
Paul Hackett, chief executive of Optivo, said he anticipates developing more sites in partnership with Sage, "unlocking additional development beyond the 1,500 homes a year our financial plan currently supports".
He said: "My priority is to build as many affordable homes as we can and this new partnership with Sage supports that.
"In my view this is even more important given the current strains on public finances.
"It will allow Optivo to increase land-buying, acquire larger sites and provide high-quality housing management services to more residents than our balance sheet would otherwise allow."
Mr Hackett added that the model "won't work for every scheme" or housing association.
"But I think deals like this have the potential to become an important part of the mix, by providing innovative ways to build more of the affordable homes the country so badly needs, and crucially, a new route to attract fresh capital into the sector.
"These are challenging financial times for housing associations. I believe it's absolutely right we innovate and find new ways to help more people in housing need. Through our partnership with Sage Housing, we've done exactly that," he said.
Mark Sater, chief executive of Sage Housing, said: "We are delighted to be working with Optivo on this landmark deal.
"At Sage our mission is to drive forward the delivery of high-quality affordable homes to those most in need.
"Partnering with like-minded organisations such as Optivo will help us achieve this."