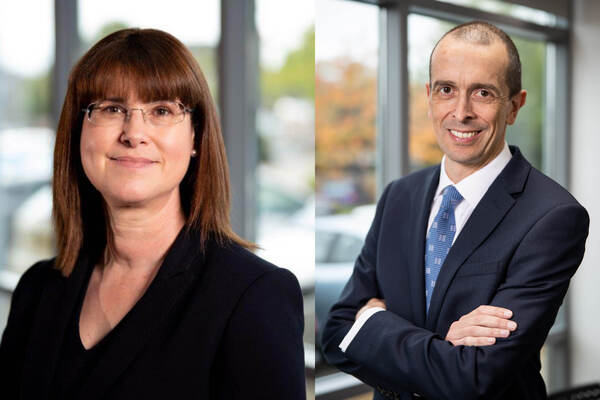 "I'm sleeping better at night than I have for the last five years," says Bronwen Rapley, chief executive of Onward Homes. The reason? After a period of instability, 35,000-home Onward now finds itself in a more solid position and has just been successful in its first outing to the capital markets.
It marks a coming of age for the group. When Ms Rapley joined in 2016, just weeks later the group formerly known as Symphony was downgraded to a G3 governance rating after it alerted the regulator about a health and safety compliance issue.
But after 18 months of hard work, in which four separate housing associations were brought under one group while a fifth (Contour) was retained as a separate entity, the rebranded organisation came out the other side with a G2 rating in January 2018. It restructured a number of its funding arrangements later that year, and in October 2019 its path back to top-rated compliance was completed when it gained a G1 rating.
To top it off, last December the Manchester-based group secured an A1 (stable) rating from Moody's.
"This marks quite a moment for us, as that journey is coming to its culmination," says Ms Rapley, who is well versed in regulatory procedures, having previously been director of investigation and enforcement at what is now the Regulator of Social Housing.
The bond issue, on 17 March, is the final piece of the restructuring puzzle. Onward issued £350m of 32-year bonds, of which £135m was retained, at a coupon of 2.125 per cent. The spread achieved was 88 basis points (bps) over gilts, with an all-in cost of funds of 2.215 per cent.
"The initial bond issue is primarily about a refinance," says Mike Gerrard, Onward's executive director of finance.
Of the £215m raised for investment, around £190m has been used to refinance three legacy funders, including break costs of around £40m. As a result, Onward subsidiary Contour Homes has now been fully amalgamated into the group, as of 1 April, with the repayment of fixed debt.
Centrus provided corporate finance advice on the transaction and refinancing, while Devonshires was legal advisor.
Mr Gerrard describes how getting the A1 rating from Moody's was the "big milestone" for Onward.
"By getting that we were confident we would be competitive when we issued the bond," he says. "And the Moody's presentation and that process was a great dry run for the investor roadshow."
So was Onward tempted to try to raise more money? Ms Rapley chuckles at the prospect.
"There is always that temptation to strike while the iron is hot," she says. "But we don't need it."
The secured funds will mean Onward can pursue its longer-term objectives, which include an aim to have 1,600 new homes by 2023. "Getting the bond away gives us that degree of certainty," Mr Gerrard says.
Beyond that, it wants to be building 500 homes a year over the next 10 years, Ms Rapley explains. In terms of tenure split, the aim is for 40 per cent affordable rent, 40 per cent shared ownership and 20 per cent market sale.
Onward – which operates homes across Greater Manchester, Cheshire, Merseyside and Lancashire – has just started on site at its biggest development to date: a 450-home scheme in Crewe.
"To take all our properties to EPC 'C' would be £100m using today's technologies and no grant over the next 10 years"
But overall, Ms Rapley says: "It's not a huge [housebuilding] programme for us and we're taking it in stages."
Like most in the sector, Onward has experienced construction delays due to the pandemic, but overall its chief executive says it has not been a major issue and that it is in "pretty good shape".
Other COVID-19 challenges remain. But again, Onward's top team appear relatively relaxed despite a degree of uncertainty.
Last May the group's updated business plan forecasted that it would see a 25 per cent cut in rental income in each of the three months to the end of June from its direct payers, which makes up 57 per cent of its rents.
But Mr Gerrard said the situation has been "better than we feared". Nevertheless, the group's rent arrears have increased by £600,000 in the 10 months to the end of January 2021.
And the end of the furlough scheme remains an obvious concern. "[The end of furlough] could be a challenge for us," says Mr Gerrard.
But he adds: "If you look at what's happened in terms of failed direct debits, and other such indicators, we've been reasonably successful in maintaining collection through the different ups and downs of the pandemic. So we're hopeful we can continue to outperform our business plan."