News
20.01.21
by Nathaniel Barker
Northern Ireland's government has pledged to push ahead with a commitment to increase social housing funding next year despite describing its latest draft Budget as "difficult".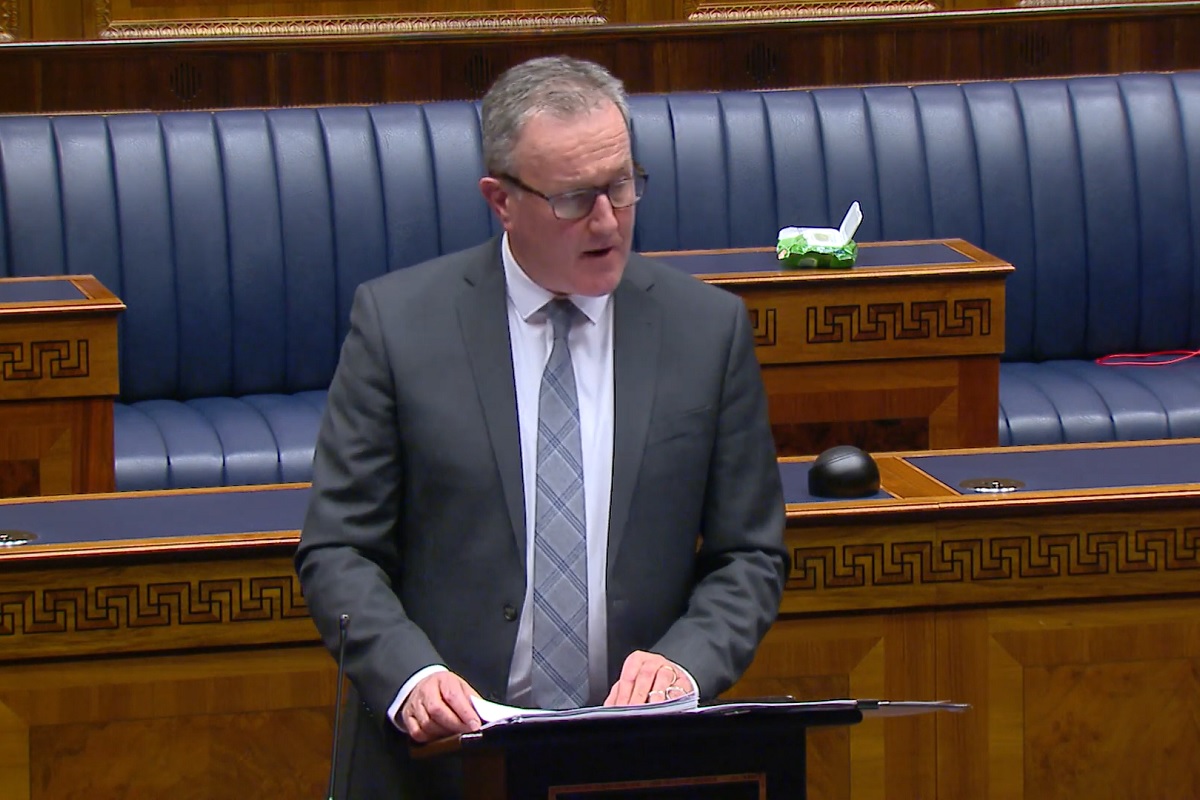 Finance minister Conor Murphy delivering his draft Budget (picture: Northern Ireland Assembly)
Finance minister Conor Murphy will make capital funding of £1.75bn available for the region in 2021/22, for spending on social housebuilding as well as major road and hospital projects.
Draft Budget tables showed that £224.8m of this capital spending will be allocated to the Department for Communities (DfC), which is responsible for housing.
That compares to £214.1m handed to the DfC in 2020/21, with the final budget earmarking £171.3m of this for "housing and regeneration".
A consultation on the draft Budget will run until 25 February, with a final Budget spelling out the money available for housing due to be presented to the Northern Ireland Assembly by April.
---
---
Delivering the draft Budget, Mr Murphy said the UK government's summer Spending Review had "not delivered the level of support that is required to kick-start an economic recovery in the context of COVID-19 and Brexit", resulting in an "effective flatlining of our 2020/21 Budget position".
"Make no mistake, this Spending Review outcome has led to a very difficult Budget settlement for all departments," he added.
Forming after a three-year political stasis last January, Northern Ireland's new power-sharing government promised to "enhance investment" in social and affordable housebuilding as part of the "New Decade, New Approach" (NDNA) deal.
Mr Murphy said his draft Budget "delivers on the NDNA priority to increase investment in social housing" and will "help address high levels of housing need and stimulate the construction sector".
As well as the capital funding allocated to the DfC, the draft Budget slates £38.8m in Financial Transactions Capital loan funding to the department, used to fund Co-Ownership Housing.
Northern Ireland's government has also chosen to prioritise funding for welfare reform mitigations to continue to insulate the region's citizens from the bedroom tax and the benefit cap.
Tables indicate that £28.4m of the £1.75bn capital spending will be reserved for shared education and housing schemes through the Fresh Start programme, which aims to improve sectarian relations in Northern Ireland.
Funding packages including city deals and other NDNA commitments have yet to be confirmed by the UK government's Northern Ireland secretary, Brandon Lewis, and so these have not been allocated in the draft Budget.