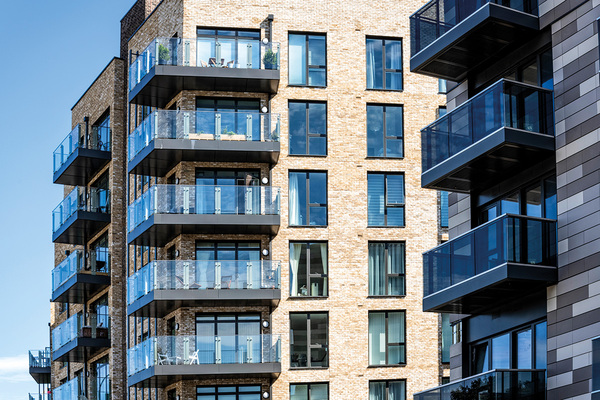 The Royal Institution of Chartered Surveyors (RICS) has today launched a consultation on new proposed guidance which looks to clarify the types of buildings that surveyors and mortgage lenders should demand the EWS form for before the buying or selling of apartments.
This includes removing the need for an EWS form on buildings taller than 18m with no cladding or curtain wall glazing, as well as buildings under six storeys with less than a quarter of the buildings facade covered in non-metal composite cladding. The RICS has said the new guidance could be in place as early as the spring.
The EWS process requires a qualified professional to inspect a building's external wall and sign a form that rules whether flammable materials are present on the external wall of a building and requires remedial work, or whether no remedial work is needed and a sale can progress.
The new guidance, which is intended to be used by valuers and mortgage lenders, is aimed at providing consistent advice on when EWS forms should be requested and, if adhered to by the lending market, could bring potentially hundreds of buildings out of scope.
It comes as tens of thousands of property sales have fallen through or been put on hold due to mortgage providers requiring an EWS form before a sale can take place.
The EWS form was launched by the RICS in December 2019, in a bid to unstick the housing market after a hundreds of sales of flats in buildings taller than 18m had fallen through due mortgage providers unwilling to lend on properties with potentially dangerous cladding.
It was initially set up to be used on only buildings above 18m, but the majority of mortgage providers now require it for buildings of any height – some as small as 9m require the form.
The new guidance being put forward by the institution sets out criteria to help valuers and mortgage providers make an assumption on when remedial work is unlikely to be required and, in turn, an EWS form will not be needed.
The guidance also moves away from using metres to measure the height of a building, instead opting for the more easily measurable number of storeys in a building.
The buildings not deemed to require EWS forms according to the new RICS guidance are as follows:
Building taller than six storeys
There is no cladding or curtain wall glazing on the building and if there are balconies where the balustrades and decking are constructed of combustible materials (eg timber) and they are not stacked vertically above each other
Buildings of five or six storeys
There is not a significant amount of cladding on the building (for the purpose of this guidance, approximately one quarter of the surface facade is a significant amount) and there are no aluminium composite material (ACM) or metal composite material (MCM) panels on the building*
If there are balconies where the balustrades and decking are constructed with combustible materials (eg timber) and they are not stacked vertically above each other
Buildings of four storeys or fewer
There are no ACM or MCM panels on the building*
*Metal cladding and ACM or MCM are visually very similar, so if metal cladding is present, the valuer should either confirm with the building owner or managing agent in writing that they are not ACM or MCM, or an EWS inspection should be requested.
If adhered to by valuers and mortgage providers, it could result in a number of leaseholders who are currently waiting on EWS checks for their buildings that fit into the criteria to progress with sales. This would also include a number of leaseholders and shared owners living in buildings owned housing associations.
Alongside the proposals, RICS did stress that the guidance was based on a specific risk-based criteria, where a reasonable assumption is being made that a building does not require remediation, but admitted that in some cases this may later be proved wrong by a fire risk assessment.
However, the organisation said it believes this is necessary to balance that with the ongoing risk that low-risk properties are unable to be resold or remortgaged.
The guidance was developed after discussions with fire safety experts, lenders and other stakeholders and matches the government's consolidated advice on external walls published in January last year.