News
05.05.21
by Lucie Heath
Landlords will be temporarily prevented from issuing Section 8 eviction notices or reclaiming rent arrears from tenants facing problem debt under a new scheme launched by the government yesterday.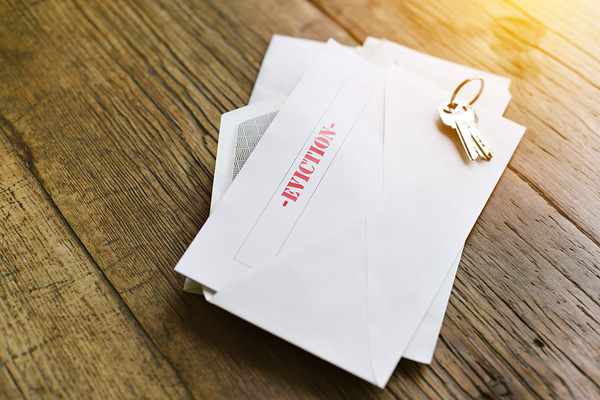 During the 60-day period, landlords will be unable to serve Section 8 notices for arrears (picture: Getty)
Named 'Breathing Space', the scheme will give tenants facing financial difficulties 60 days to get their finances back on track without debts piling up and the threat of enforcement.
Those who successfully apply to the scheme will be given legal protection from their creditors for the duration of the period, while most interest and penalty charges will be frozen and enforcement action halted.
For landlords, this means they will be unable to serve Section 8 eviction notices for arrears during this period, while also putting on hold any other action in relation to rent arrears, including court claims.
Section 8 notices are used against tenants largely in cases where rent arrears have built up, in most cases they are issued after two months' worth of arrears.
Landlords will still be able to serve eviction notices for other reasons, such as anti-social behaviour.
---
---
Those being protected under the scheme will receive professional debt advice to design a plan to help get their finances on track.
The protections will also be available for people in mental health crisis treatment for the full duration of their treatment plus another 30 days. The government expects 700,000 people across England and Wales to benefit from Breathing Space in the first year of the scheme.
Ministers said creditors will also benefit from the scheme, with over £400m in extra debt repayments expected in the first year.
John Glen, economic secretary to the Treasury, said: "We're determined to tackle problem debt, but it is incredibly hard to get your finances back on track when your debts are piling up and you've got creditors at the door.
"This scheme will give people a breathing space from charges, distressing letters and bailiff visits, so they can tackle their problem debt with support from a professional debt advisor.
"And to help people going through a mental health crisis, which is too often linked to financial problems, we're bringing in stronger protections lasting beyond the end of their crisis treatment."
Martin Lewis, founder of MoneySavingExpert.com and the Money and Mental Health Policy Institute, said: "Debt is far more than just a financial issue. It's a major cause of relationship breakdown, can hugely diminish people's well-being, and sadly leaves [hundreds of thousands] at risk of taking their own lives. That's why Breathing Space is so important. It's a win-win-win: for individuals who get their finances back on track, creditors who'll recoup more cash in the long run, and the economy as there will be less financial catastrophe.
"I'm especially thrilled that our Money and Mental Health Policy Institute suggestion for Recovery Space is coming into fruition as part of this. That means from now on, everyone receiving NHS crisis care for their mental health can recover without being hassled for escalating debt, fees and charges. Finally, people returning home after being hospitalised for their mental health, can do it safe in the knowledge there's no threat or reality of bailiffs knocking."