News
18 Jan 2021
by Gavriel Hollander
Accord and GreenSquare Group have revealed that Elisabeth Buggins, current chair of Accord, will chair the merged organisation after the tie-up goes live, while GreenSquare's chief executive Ruth Cooke will become chief executive of the new group.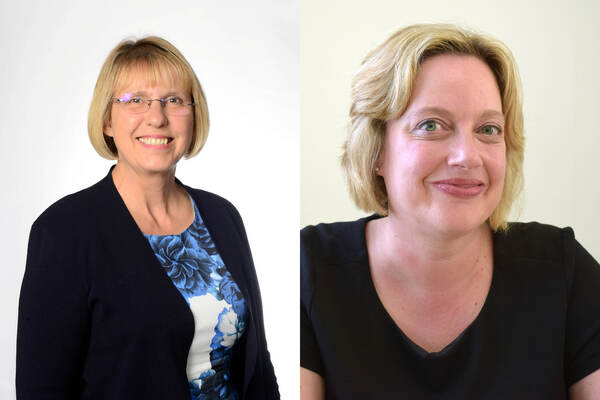 Elisabeth Buggins (left) and Ruth Cooke
Although the merger of the combined 25,000-home housing associations (HAs) has been delayed by the COVID-19 pandemic, it is now expected to go ahead in the spring.
Ms Cooke, who has previously held chief executive roles at Clarion Housing Group and Midland Heart, will take on the same job at the new HA after Accord chief executive Chris Handy announced that he will be retiring in March.
Other appointments to the executive team at the new organisation include Stuart Fisher as chief financial officer; Iain Bacon as executive director of corporate services; Rachel Crownshaw as managing director (south); Maxine Espley as executive director of care and support; Dawn Hendon as company secretary and director of governance; Helen Moss as executive director of people; and Sara Woodall as managing director (north).
---
---
Ms Cooke and Mr Fisher will join Ms Buggins on the board, along with Robin Bailey as deputy chair. Other board members are Pablo Abdres; Mandy Clarke; Simon Eastwood; David Greenhalgh; Susan Goldsmith; Ninder Johal; Sean Pearce; and Salma Reehana.
Last year, GreenSquare restructured its debt to increase borrowing capacity ahead of the merger, which was announced in February 2020 but delayed after the pandemic struck. The £540m restructure involved eight funders, including a second investment from asset management firm Blackrock.
This left the 12,000-home association with more capacity to meet its stated target of developing 1,500 new affordable homes by 2023.
Last October the Regulator of Social Housing (RSH) upgraded GreenSquare from G2 for governance back to the top rating of G1 following a June 2019 downgrade that observed "a clear lack of leadership around health and safety issues". The group is still rated V2 for financial viability.
Commenting on the imminent merger, Ms Cooke said: "Our boards have agreed that the merger will mean that we can improve services for existing customers, invest more in local communities, extend our care and support services, and build more affordable homes.
"For both organisations, this isn't about merging with just any housing association. All the discussions we've had have made it absolutely clear that we share the same values and ambitions for expanding and enhancing locally focused services to customers."
Ms Buggins added: "Both organisations are confident that this merger of equals will create a strong and more resilient organisation which is better equipped to provide great services for people and to innovate as we respond to a changing world.
"In pooling our resources we will be able to build more homes and invest in communities across our geography, including in places where our current operating areas meet. We will work with people – whether staff, tenants, customers or delivery partners – to identify opportunities for continuing improvement and to find ways to realise those improvements wherever possible."