News
07/10/20
by Lucie Heath
Tens of thousands of affordable homes would have been lost over the past five years if the government's proposals around small sites being exempt from being required to deliver affordable housing had been in place, research by the Local Government Association (LGA) has revealed today.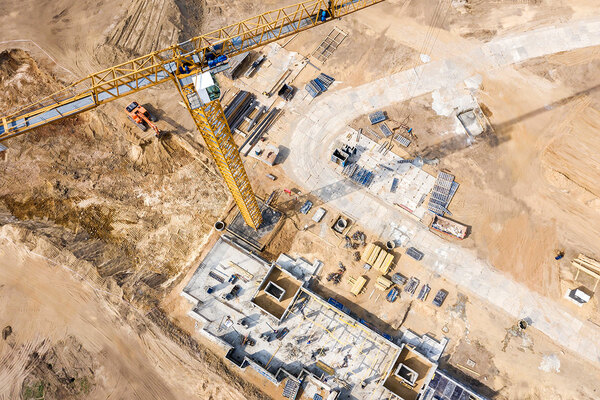 Picture: Getty
The LGA is warning that some councils could see an almost 50% reduction in affordable housing delivery if the plans, which would see developers not having to provide sub-market housing on sites as large as 50 homes, are to come into law.
Under current rules, only sites of 10 homes or fewer are exempt from providing affordable housing through Section 106 agreements.
Section 106 is a condition built into planning permissions to ensure that a portion of profits made through development are channelled into providing affordable housing, infrastructure or other public benefits.
However, in August the government announced plans to increase this threshold to 40 or 50 homes in order to support small and medium-sized builders (SMEs) in the wake of the coronavirus crisis.
Analysis by Glenigan, commissioned by the LGA, found that between 2015/16 and 2019/20, 119,505 homes were delivered on sites between 10 and 49 units.
---
---
This would have included 29,876 affordable homes through Section 106 agreements, based on current rules that require developers to deliver 25% affordable housing on sites of this size.
The LGA is warning that these changes could encourage developers to "gain the system" by putting forward proposals for schemes of 39 or 49 homes on sites that could accommodate more, in order to avoid making affordable housing contributions.
Instead of setting the threshold nationally, councils should be allowed to determine them at a local level, the LGA said.
It warned that some councils could see a huge reduction in the number of affordable homes being delivered. For example, setting the threshold at 50 homes would see a 37% reduction in the number of affordable homes that would have delivered within Lewes District Council over the past five years.
Ministers have said that changes to the affordable housing threshold could be introduced as early as this autumn and would last for an initial period of 18 months.
The proposals are separate from the government's wider planning white paper, which is proposing a long-term dramatic overhaul of the planning system.
David Renard, housing spokesperson at LGA, said: "Proposals to exempt developers from having to build affordable housing on certain small sites are of huge concern.
"With rising housing waiting lists and record numbers in temporary accommodation, we desperately need to be building more affordable housing, not less. We need to build homes that are affordable to local people and help to reduce homelessness, rather than contributing additional funds to developers' and landowners' profits.
"These current proposals risk allowing developers to game the system by only putting forward schemes for fewer than 40 or 50 homes, and so avoid building any affordable homes at all.
"We want to work with government on reforming the planning system, which ensures that it is improved and strengthened, delivering beautiful homes and places for communities. But this also needs to see the requirement for affordable housing retained as a key element, by giving councils the power to determine what is right for their local area."
A Ministry of Housing, Communities and Local Government spokesperson said: "These claims from the LGA are fundamentally flawed as they are based only on an 18-month support programme for small and medium-sized developers during the pandemic – their analysis is not relevant to our policies.
"Our proposals will bring in a new, simpler infrastructure levy to ensure developers pay their way and deliver at least as much, if not more, on-site affordable housing than today.
"We also recently announced details of our £11.5bn Affordable Homes Programme – the biggest investment in a decade – which will deliver up to 180,000 new affordable homes across the country."