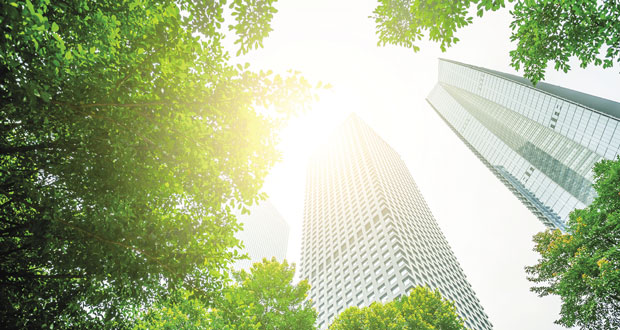 Asset owners, operators and managers are now able to assess and improve the energy efficiency of their office buildings via the NABERS UK Energy for Offices scheme.
The scheme, which is administered by BRE, rates the performance of the 'base' building (including central services such as heating and cooling systems and lifts and lobby lighting) enabling building owners to clearly delineate the energy consumption under their control. This allows office buildings to be rated and compared based on landlord services, providing occupiers, investors and other stakeholders with a clear indicator of a building's energy efficiency.
According to BRE, the rating will provide owners with a cost-effective, trustworthy and independent validation of energy data that can used to compare their buildings with other buildings in their portfolio and those of their peers across the UK.
Using benchmarks represented by a simple 6 Star scale, the scheme also provides an essential framework for target setting and reporting.
The annual ratings, adds BRE, can drive performance improvements and reductions in energy consumption and emissions, with the increased transparency enabling owners to demonstrate competitive advantage with existing and prospective investors and occupiers.
Dr Shamir Ghumra, Head of Building Performance Services at BRE, said: "Having a building that has a lower environmental impact and lower running costs, and being able to communicate that with confidence and simplicity is going to stand building owners in good stead over the long-term – and the new NABERS UK Energy for Offices scheme will help them facilitate this.
"Ensuring our buildings and infrastructure are equipped to play a part in the global fight against climate change is crucial, and I'm looking forward to collaborating with NABERS to help drive this forward."
Farah Syed, Product Manager for NABERS UK, said: "We are very excited to launch NABERS UK Energy for Offices here in the UK. It is a fantastic product that will help drive significant improvements to the energy efficiency of offices, as we have already seen in Australia, the origin of NABERS. Energy for Offices will be a key enabler of the change needed for industry to succeed in achieving net zero targets."
The scheme will be governed by a Steering Committee comprised of NABERS, the Better Buildings Partnership, with BRE the UK administrator responsible for assessor training and building certification.
Sarah Ratcliffe, CEO, Better Buildings Partnership, added: "It is fantastic to see the NABERS UK Energy for Offices scheme launched to the market. The industry has called for a scheme that enables property owners to assess, benchmark, verify and disclose the energy performance of their assets for many years.
"This scheme responds to that demand, building on the enviable reputation of NABERS in Australia. We hope that it will drive the significant improvement in energy efficiency in commercial offices that is urgently needed if the industry is to deliver on its net zero ambitions."
The scheme follows the initial launch of NABERS UK last year and aims to bridge the performance gap between the design and in-use energy performance of offices in the UK.
Six steps to facilities management in the post-pandemic world
As workplaces open up and restrictions lift the role of the FM has become more important than ever.
The challenges presented by the Covid-19 pandemic are now providing a valuable opportunity for FMs to demonstrate their skills and adaptability. Whilst on a practical level FMs are responsible for making buildings safe and comfortable, they are also crucial in attracting people back to the office.
In speaking with industry leaders, it is clear that there are six key areas of focus. Zip has published a white paper which looks at each one, suggesting ways that facilities managers can tackle the complexities and pace of a return to the workplace, whilst demonstrating clear and effective leadership along the way.
To find out more download the white paper here.