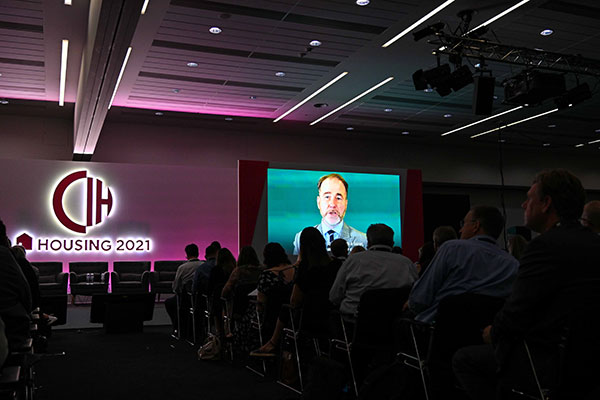 Christopher Pincher's speech came as government today opened its Spending Review process, ahead of an Autumn Budget scheduled for the end of October.
In a pre-recorded address at the first day of the Housing 2021 conference, which is taking place in person in Manchester this week, Mr Pincher said that the government was "not naïve about the scale of the task before us" when it came to decarbonising existing housing stock.
"[That] is why our manifesto commits £3.8bn to the Social Housing Decarbonisation Fund", Mr Pincher added.
The fund, first outlined in the Conservatives' 2019 election manifesto, is understood to cover a 10-year period, although Mr Pincher did not specify this. To date, £60m has been awarded to 19 demonstrator projects, while social housing landlords were last month invited to apply for a share of £160m of funding available under the first wave of the scheme covering the period to 31 January 2023.
Estimates for the overall cost of decarbonising the UK's social housing sector by 2050 are thought to be in the region of £100bn.
At the same time, Mr Pincher remained silent on the cost of building safety remediation facing housing providers, and whether government would offer further support.
In a sector 'right to respond' session following the minister's speech, John Bibby, chief executive of the Association of Retained Council Housing (ARCH), said that the minister's silence on the topic was "really strange" in view of the Building Safety Bill currently going through parliament.
"We do know that many of you as landlords in the room are spending tens of millions now in the very short term to make sure, quite rightly, that buildings are safe for our residents to live in," he said.
He added: "[Mr Pincher] needs to be prepared to keep going to Treasury and asking and begging, because as I see it, certainly from the council perspective, if you've got the enhanced Decent Homes Standard, you do all the building safety works, and you deal with zero carbon – the money just won't fill it. So it may be that… some councils need some support at certain points on their 30-year business plans to make them work."
Kate Henderson, chief executive of the National Housing Federation, said that the absence of any reference to building safety was the "biggest omission" in the minister's speech.
"It is the biggest challenge we face, it is a non-negotiable for us," Ms Henderson said. "The safety of our residents is the number one policy – they must feel safe and they must be safe, and we need the government to be 100 per cent focused on that."
However, Ms Henderson welcomed many "positives" in Mr Pincher's speech, including the reference to the decarbonisation fund.
"To have a minister, ahead of the Spending Review, ahead of COP26 reaffirm the Conservative manifesto commitment of £3.8bn for a Social Housing Decarbonisation Fund is fantastic. We need that money, that money will be a game-changer, it will be a real commitment of intent."