News
15/11/20
by Dominic Brady
Former residents of four mid-rise buildings which were destroyed by fires have written to ministers demanding that support to remove dangerous cladding should be available to buildings below 18m.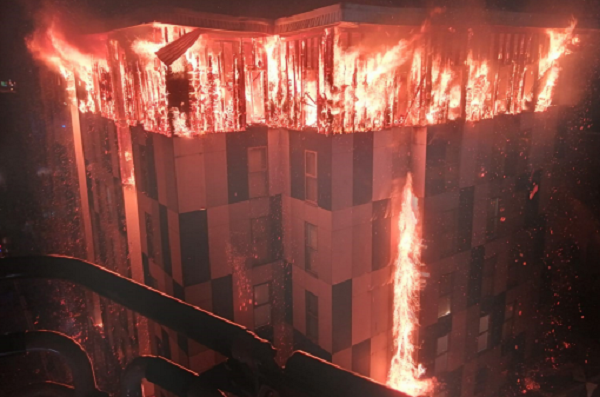 The Cube, a student block in Bolton, was covered in high-pressure laminate cladding
Residents from blocks in Barking, Worcester Park, Brighton and Bolton wrote to housing secretary Robert Jenrick and building safety minister Lord Greenhalgh arguing that the £1bn Building Safety Fund, which is there to help remove all types of dangerous cladding, should be available to buildings below the 18m threshold.
The letter said: "We feel strongly that safety issues are being overlooked in buildings below the arbitrary height of 18m.
"Buildings like ours lack the same level of scrutiny or regulation as taller buildings, which means they can have far more dangerous materials on the external wall."
---
---
The former residents noted the fire at a student block in Bolton was covered in high-pressure laminate (HPL) while the fires at Barking and Worcester Park had blocks covered in Class E and Class F-rated materials, which would not be compliant for use on buildings over 18m.
The letter highlighted the fact that mid-rise buildings may also be home to more vulnerable occupants, as was the case in Crewe last year when a fire ripped through a care home.
Former residents demanded a meeting with Mr Jenrick and Mr Greenhalgh to discuss solutions to fire safety issues on mid-rise blocks.
"Unsafe buildings below 18m are being arbitrarily excluded from the Building Safety Bill and Building Safety Fund. As a result, buildings like ours are last in the queue for remediation and it horrifies us to realise some of these homes will never be made safe," the letter said.
The residents outlined key asks in the letter, including:
There must be a more sophisticated approach to assessing building risk, not simply linked to height
The Building Safety Fund must cover all unsafe buildings regardless of height
Combustible materials should be banned on the external wall of all multi-occupancy buildings, including balconies and regardless of height
The proposed Building Safety Regulator should apply to all high-risk buildings regardless of height
Student accommodation should not be excluded from the government's Building Safety Fund
Sprinklers should be fitted in all specialised housing and care accommodation regardless of height
The Ministry of Housing, Communities and Local Government has been approached for a response.