News
01.02.21
by Lucie Heath
A south London council has been granted planning permission for a 2,550-home regeneration scheme.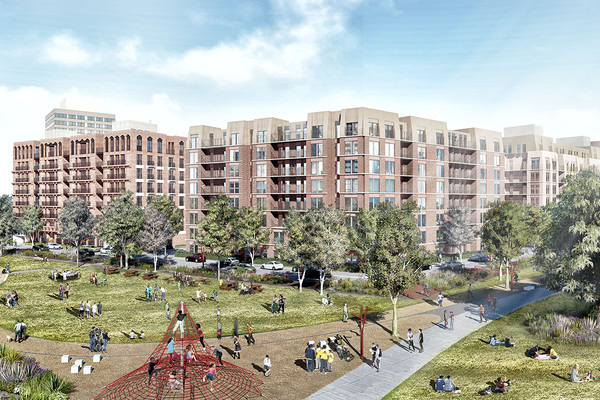 A CGI of the Winstanley and York Road Estate (picture: HTA Design)
Wandsworth Council will deliver the new homes on the Winstanley and York Road Estate in Battersea in a joint venture with Taylor Wimpey.
More than a third (35%) of the homes will be for social rent, London Affordable Rent or shared ownership, with the rest for private sale or rent.
Every secure council tenant on the existing estate will be offered a council home in the new scheme, while all council leaseholders will be offered an opportunity to buy a new affordable home, the council said.
It follows a large consultation exercise with existing residents that took place over a six-year period.
---
---
The plans include a leisure centre, a community centre, a library, a health centre, a nursery and a local office for Workmatch, a council initiative to help people into new jobs.
Taylor Wimpey and Wandsworth Council have already completed the first blocks of new housing. The scheme is expected to fully complete in 2036.
A new Battersea Baptist Church and Thames College school are also under way.
Ravi Govindia, leader of Wandsworth Council, said: "This means we can push on with our plans. We have made a commitment to every secure council tenant and resident leaseholder that they will have the right to a new, improved property and I am confident that having the opportunity to live in better, higher-quality, sustainable homes will genuinely improve people's lives."
Peter Gore, managing director of Taylor Wimpey London, said: "We are delighted to move forward with this significant regeneration, which will provide hundreds of quality affordable homes, including new homes for all council tenants and resident leaseholders on the same site.
"Alongside this we will be providing major new community facilities and improved infrastructure, as well as the creation of the new public park."
Simon Bayliss, managing partner at HTA Design, said: "The Winstanley and York Road Estate masterplan evolved through creative engagement with local residents and a design collaboration between HTA Design, Henley Halebrown, Figure/Ground, LA Architects and Farrer Huxley.
"It delivers better homes for existing residents in Battersea-inspired mansion blocks, overlooking a beautiful new park. An urban edge of taller buildings make the most of views of the Thames alongside various commercial and community spaces including a new leisure centre, library and nursery for Wandsworth Council."