News
16.07.21
by Lucie Heath
Harrow Council has announced it will partner with Wates Residential on a multi-site regeneration programme that will deliver 1,500 new homes.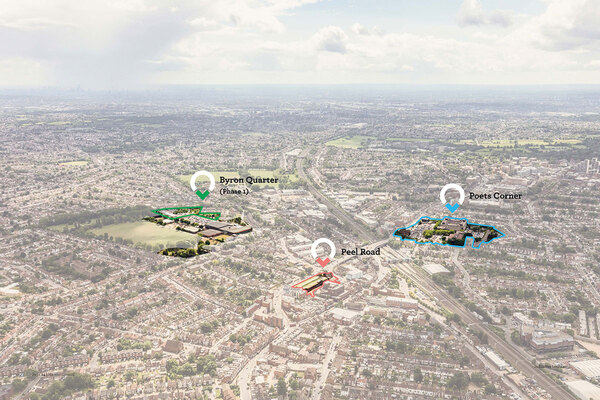 The joint venture will develop three underused sites in Harrow (picture: Harrow Council)
Last night, the council's cabinet agreed to work with Wates to develop three large underused urban sites in the Wealdstone area in a £690m project.
Owned by the local authority, the three sites have the potential to deliver more than 1,500 homes, more than 40% of which will be for shared ownership or affordable rented tenures.
Harrow Council will now enter into a 50/50 joint venture with Wates, which is called Harrow Strategic Development Partnership.
The council's equity is made up partly by the value of the three development sites it owns plus a top-up to match Wates' investment, which comes from borrowing.
The business case for the partnership projects a long-term return of £120m.
---
---
Harrow Council said residents will be consulted extensively on the proposals for the sites and that the first plans are due to come forward later this year.
Wates Residential, which is part of Wates Group, was identified as the local authority's preferred bidder to form a development partnership in September last year.
Graham Henson, leader of Harrow Council, said: "Harrow is crying out for high-quality affordable housing. Too many people are trapped in unsuitable, overcrowded accommodation. They deserve places to live that will support their success and allow their families to flourish.
"We are committed to doing all that we can to meet Harrow's future needs within our existing developed environment. That means using sites like these much more efficiently.
"By making this commitment, we can protect our precious green belt and ensure that the development proposals we bring forward are appropriate, sustainable and backed by investment in infrastructure."
Helen Bunch, executive managing director at Wates Residential, said: "We at Wates Residential are really excited to be a part of this amazing regeneration scheme that is going to transform the face of Harrow.
"This £690m regeneration programme will deliver 1,500 quality affordable homes, a new civic centre, commercial space as well as green public spaces for the people of Harrow to enjoy.
"The regeneration goes beyond the building infrastructure, and as part of the partnership with Harrow, we are committed to supporting the local community by providing apprenticeships, new jobs, spend in the local community and early careers support for the local schools and colleges."
Wates is also involved in a joint venture with another London borough, Havering, in a £1bn programme to regenerate 12 council estates.