Insight
30 Nov 2020
by Gavriel Hollander
Léann Hearne tells Gavriel Hollander social housing "wasn't at the forefront" when Knowsley Housing Trust was deemed non‑compliant in 2018, and why the rebranded group is keeping things simple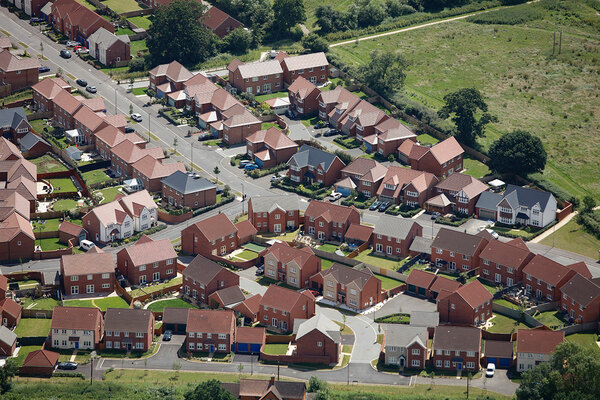 Picture: Getty
Sharelines
---
---
"That has been my mantra through everything – to keep everything as simple as possible," ~Leann Hearne, CEO @LivvHousing explains how the organisation has gone back to basics to focus on its core purpose #UKHousing #SocialHousingFinance
---
The chief executive of Livv Housing Group has said its core purpose of providing social housing "wasn't at the forefront" when the regulator deemed its legacy business, Knowsley Housing Trust (KHT), non-compliant in 2018.
Speaking to Social Housing, Léann Hearne said the rebrand earlier this year, which created Livv and collapsed a previously complicated group structure, was designed to simplify and streamline the structure of the business.
In a regulatory judgement issued in August 2018, the Regulator of Social Housing (RSH) deemed KHT to be non-compliant. This followed a June 2018 regulatory notice that found it had breached the Home Standard's health and safety requirements. The association had also received three enforcement notices from Merseyside Fire and Rescue Service in November 2017 relating to blocks on an estate in Kirkby.
The RSH warned in the judgement that the then 13,000-home, Merseyside-based association "did not have sufficient oversight of activities taken in other parts of the group", so could not effectively manage key risks.
The association had been part of an unregistered parent company, First Ark, with the structure first set up in 2010. That structure was dismantled in May this year as part of the rebrand. Renamed Livv Housing Group, the registered provider became group parent to just three (unregistered) subsidiaries: Livv Homes, Livv Maintenance and Livv Investment.
---
---
Last year, the RSH issued a stark warning to associations that they risked downgrades if an unregistered parent was placed at the top of a group structure.
Ms Hearne, who joined KHT shortly after the judgement was issued, said that simplification was at the heart of the restructuring process. "That has been my mantra through everything – to keep everything as simple as possible," she explained. Six months after the restructure, on 28 October, the regulator returned Livv to a compliant G2 rating.
Ms Hearne acknowledged the landlord's core purpose "had got a bit lost" in the period before the downgrade, echoing criticism of the group in the wake of the fire enforcement notices, including that of local MP George Howarth, who described KHT's failure to comply with fire safety regulations as "unforgivable".
Asked whether this criticism was fair, Ms Hearne said: "It felt to me at the time that yes [it was]. When you get a downgrade from the regulator that focuses on governance and on safety, that gives you the answer that it [our core purpose] wasn't at the forefront. You can't argue with that fact.
"So, one of the first things I said to the staff when I joined was that we'd put the core business absolutely at the centre, and we'd have social housing provision as our main source of business. The structure was what was right for us to match that. We've gone from six boards [to one]. We had six boards, a bunch of chairmen and a number of committees, and it was really complicated to get messages through."
Ms Hearne has brought in a new team and new system to ensure fire safety compliance. The group also embarked on a full stock condition survey. This was intended not only to ensure the group's stock was compliant but also to get "the full data on all our properties and have a forward plan of how much we were going to invest in those properties", she explained.
What the survey revealed was that some investment in stock had slowed down following the rent cut in 2015. "We put that investment back in and accelerated it," Ms Hearne said. "We've put more in [to the business plan] in the next three to five years than was previously planned."
Livv in numbers
14,000
Current number of homes in portfolio
£70m
Spend on existing stock over the next three years
400
Number of homes to be developed annually over the same period
£20m
Remaining undrawn revolving credit
That investment in existing stock will total £70m over the next three years, which represents an annual increase of six per cent. Livv will also spend £5.5m on fire safety in the same period, including replacing fire doors.
The rebrand of the business also saw the launch of a new corporate plan in April. This involves developing 400 homes annually over the next three years, with around 85 per cent expected to be affordable rent.
Livv has around £20m remaining undrawn from a revolving credit facility from its two bank funders, Barclays and Santander. It also has facilities from overseas funders Barings and Allianz. Ms Hearne said the programme can be delivered without having to raise additional financing, but the group would probably have to look for new funding in around 18 months' time. However, it is likely to go to the bank market for this, rather than look at a bond issue.
Ms Hearne said having long-term funders helped the group through its period of non-compliance and that there was no insistence from them to change terms because of the restructure.
"That wasn't an immediate concern for us. Because we had got facilities in place, that meant we were OK, which is why we kept the funders up to date and up to speed with where we were going; it was much more about having a trusted relationship with our funders."
She added that there was pressure to get back to a compliant governance rating so that Livv could be eligible for grant funding from the government for its development programme.
Ms Hearne said that there was "no space" in the corporate plan to March 2023 for a merger but she was careful not to rule one out beyond that.
She explained: "Where we are for this corporate plan is that it's about getting the basics embedded. [After that] you can look at something that might be around the merger or acquisition profile. We could look to do something different because it is about growth then, and that might be something beyond the development programme that we've got."