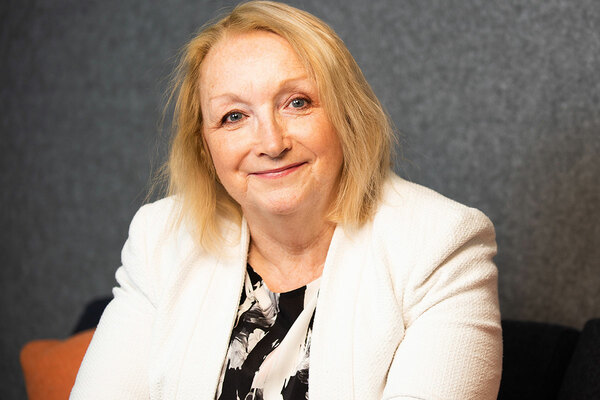 In a speech to the Virtual Housing Conference today, Aileen Evans said that despite an announcement this week on the £11.5bn Affordable Homes Programme, there is still "much uncertainty" as the government is "yet to clearly define where it stands on housing".
She also cautioned that while "investment in lower-cost homeownership is a legitimate government ambition, it must not come at the expense of providing social rented homes".
Many in the sector are still wary of the government's approach to the social housing sector as much of the focus has been on homeownership to date, while the proposed scrapping of Section 106 has raised concerns over affordable housing delivery.
Ms Evans, who took over as CIH president last November, said that if the government gets it right on things such as the long-awaited Social Housing White Paper, the "opportunities are huge".
But she added: "These are complex areas of highly interconnected policy. We have seen how hard it can be to get things right and we can help.
"By engaging fully with the people doing the doing – us – it is possible to craft a functioning housing system that truly works for all.
"Ignore us and be prepared to repeat the mistakes that have blighted housing policy in this country for the past 40 years. It is that critical."
Ms Evans, who is chief executive of 12,000-home Grand Union Housing Group, also highlighted how the COVID-19 pandemic had "brought into stark focus the inequalities inherent in our society".
"Nowhere have these inequalities been more apparent than in our broken housing market," she said.
"Whether through homelessness, overcrowding or the care sector, the link between COVID-19 and housing is clear. In areas where the housing system has most obviously failed, the impact has been felt most greatly.
"This cannot be right, and it must not continue."
Ms Evans also called for the sector to do more tackle the issue of diversity and admitted that the Black Lives Matter movement had given the sector some "uncomfortable moments of self-reflection".
She said: "For many of us working in the housing sector, the rise of the Black Lives Matter movement has given us some uncomfortable moments of self-reflection.
"Both in terms of the way in which we serve our diverse communities and, as housing professionals, the way in which we make housing an accessible career choice that rewards talent and commitment and provides career paths for people of all backgrounds.
"What is true for housing organisations across the country is also true for CIH. We must do more. And we will."
She also spoke of how the pandemic had impacted people's mental health and said the CIH's own 'Shine a Light' campaign is "even more crucial than ever before".
Later, after speaking about her own personal experience of dealing with mental health issues, Ms Evans added: "I think if we're honest, we'll admit that some of our systems and practices can be part of the problem.
"Talking about mental health has made a difference in my organisation and it will do the same in yours."