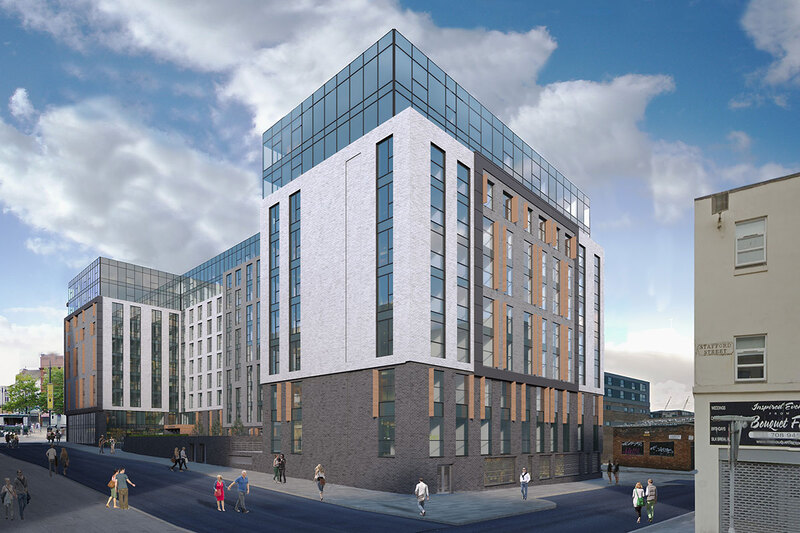 The Newcastle-based housing association partnered with BMO Real Estate Partners (BMOREP), a subsidiary of BMO Global Asset Management, on the specialist build-to-rent fund early last year, with a target to deliver £500m of new housing.
The fund's first acquisition, announced last week, is a 10-storey block known as Hughes House on London Road in Liverpool's city centre.
The proposed 258-home development will consist of 144 one-bedroom flats, 99 two-bedroom flats, 15 studio flats and a roof garden.
The site is within walking distance of Royal Liverpool University Hospital, Liverpool John Moores University and the University of Liverpool, tying into the fund's aim to deliver purpose-built rented schemes for key workers.
The homes will be offered under a "flexible" rent model operated by Home Group, offering market-rent and discounted-rent units. This guarantees that the overall rental income generated will not increase at a rate higher than inflation.
The model has been designed to allow tenants to move between different homes on the same development as and when circumstances change.
Kitson Keen, head of build-to-rent at Home Group, previously said that those paying market rent would effectively "subsidise rent for other [tenants]", who would be offered homes in line with the allocation policy of the relevant local authority.
On completion of the first deal, she said it was the "first in what we expect to be many more similar developments across the UK".
Peter Lowe, fund manager at BMO Real Estate Partners, the investment advisor to the fund, said: "This acquisition provides us with an opportunity to support the delivery of affordable private rental housing in Liverpool while also generating sustainable, inflation-linked long-term income returns for investors."
The fund is targeting a return of six per cent or more, according to BMO, and has attracted investors including Big Society Capital, an impact investor launched by the Cabinet Office in 2012 under the coalition government.
Wren Laing, investment director at Big Society Capital, said: "The current failings of the private rented sector are widely documented: unaffordability, poor quality, insecurity of tenure, to name just a few. An essential part of solving the housing crisis is tackling the problems experienced by tenants and improving the quality and range of choice of housing options available to people living in the PRS [sector]."
Mr Lowe added: "We expect to follow up this acquisition with a further pipeline of near-term opportunities as we continue to support the delivery of affordable housing solutions across the UK."