News
19.08.21
by Peter Apps
A new asset management fund backed by housing association Home Group and property giant BMO Real Estate Partners (BMOREP) has acquired its first property after spending £40m to buy the Hughes House scheme in Liverpool.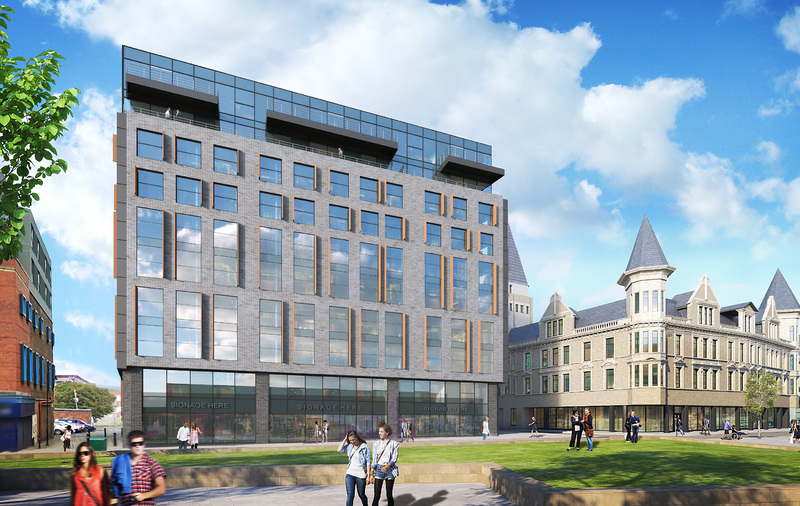 Hughes House in Liverpool will comprise 144 one-bedroom apartments, 99 two-bedroom apartments and 15 studio apartments
The development, on London Road, is aimed at people working at the Royal University of Liverpool Hospital, as well as Liverpool John Moores University and the University of Liverpool, all of which are within walking distance.
When complete, the 258-home scheme will comprise 144 one-bedroom apartments, 99 two-bedroom apartments and 15 studio apartments.
Home Group entered into a partnership with BMOREP last year. BMOREP is a subsidiary of BMO Global Asset Management, a North American asset management firm that manages funds worth $263bn (£200bn).
The fund has a value of £500m and is intended to attract private investment into Home Group's 'flexible rent' product, which allows homes to be rented out at different rates depending on residents' incomes, locations and other circumstances.
The unique financial model, devised by Home Group, underpins the fund, which flexes to suit the needs of the build location, as well as the varying needs of renters.
Under the model, developers agree with planners a set rental income for an entire scheme. However, the rental incomes for individual flats would be flexible and would change depending on the tenants' circumstances.
---
---
According to Home Group, the fund will enable local authorities to secure higher levels of affordable housing for rent and relieve the ongoing pressure to secure government grant.
Kitson Keen, head of build-to-rent at Home Group, said: "As a country, we aren't going to be able to build the homes we need without innovative approaches. A larger, professionally managed private rented sector (PRS) will have a positive impact in driving up standards.
"Making private renting better is crucial to ensuring everyone has a safe and affordable home in which to live. By expanding Home Group's housing delivery model into the PRS, through the relationship with the BMO UK Housing Fund and with the utilisation of the flexible rent leasing mechanism, we're able to offer the sector the potential to provide more of the homes we need at an affordable level with funding coming from the private sector. It does not need government grant – yet can operate at scale."
The partners have said the fund will be governed by a "robust social agenda" aligning with rigorous environmental, social and governance objectives.
Several impact investors have already provided money to the fund. One of these is Big Society Capital, an independent social investment institution established by the Cabinet Office in 2012, which has invested more than £1.7bn in organisations with a social mission.
Peter Lowe, fund manager at BMO Real Estate Partners, said: "This acquisition provides us with an opportunity to support the delivery of much-needed housing in Liverpool, a market which has been characterised by an undersupply of affordable private rented accommodation, while generating sustainable, inflation-linked, long-term income returns for investors.
"We have an identified pipeline of further short to medium-term opportunities, which we are aiming to immediately deploy capital on as we seek to continue support the delivery of affordable housing solutions across the UK."