News
11 Sep 2020
by James Wilmore
Housing associations that sign up to 'strategic partnerships' under the government's new £11.5bn Affordable Homes Programme (AHP) will have to deliver 25 per cent of their pipeline using modern methods of construction (MMC).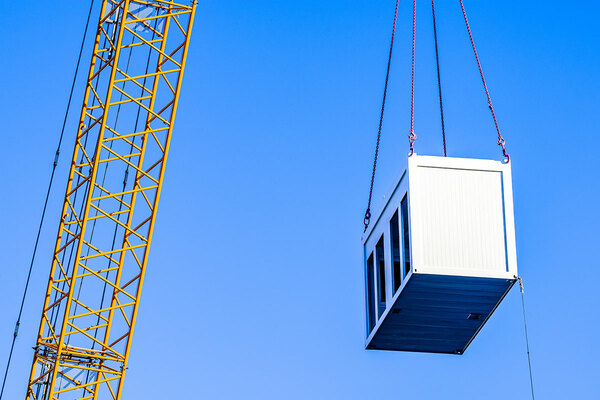 Picture: Getty
The move is part of a government effort to put modular housebuilding at the heart of the new five-year AHP programme as it aims to speed up delivery.
Guidance on bidding under the new AHP, which kicks-off next year, was published yesterday. The plan is to deliver 180,000 new affordable homes by 2026.
The document describes strategic partnerships as "a range of tailored, longer-term deals for organisations that have the ambition, capacity and successful track record of delivering large numbers of new homes at significant pace".
It adds: "We expect strategic partners to commit to more focus on strategic objectives, including the adoption of at least 25 per cent MMC within their development programme and use of their expertise to help build capacity for development within the sector."
---
---
Housing associations can also access funding on an individual scheme-by-scheme basis, known as 'continuous market engagement'.
However, it is not currently clear what the percentage requirement will be for MMC through this route. A note in the document said that requirements for MMC in the AHP are "currently being reviewed".
A separate capital funding guide states that housing associations will have to assign a "build category" to schemes at "key stages in the processing route".
The categories, relating to offsite manufacturing, include 'volumetric', 'panellised' and 'hybrid'.
In a keynote speech to the Virtual Housing Festival yesterday, housing secretary Robert Jenrick said the government was making MMC "central" to the AHP.
He added: "We've set a minimum target for the use of MMC in the programme and we're going to review that target annually with a view to increasing it if market conditions allow."
Mr Jenrick repeated the government's ambition for the UK to be a "leader in MMC", which he said would mean "new jobs, better skills, as well as faster delivery of homes".
A spokesperson for the Ministry of Housing, Communities and Local Government added: "We believe that the measures contained in the current programme will provide a significant incentive for the market to develop and as we develop a more comprehensive understanding of how MMC works in the sector."
Delivery through offsite and modular methods have long been trumpeted as a panacea for tackling the housing crisis.
However, modular has failed to break into the mainstream, with some of the most high-profile modular firms reporting significant losses from start-up costs.
As part of the AHP, Homes England will be making £7.39bn available from next April to deliver up to 130,000 affordable homes by March 2026 outside of London.
The Greater London Authority will be allocated the remaining £4bn. But the G15 has warned that £4bn will not be enough to meet the capital's affordable housing need.
Earlier this week, details of the AHP were released, including proposals for a new shared ownership model.
In a plea to associations, Mr Jenrick added: "I encourage you to read it [the AHP document], consider it and start preparing your bids and, above all, to think big. At times like this, we need you – we need you to get building."
Elsewhere in his speech, he hit back at claims that the planning shake-up announced last month – which includes the scrapping of section 106 – would mean less affordable homes.
Mr Jenrick said he was "confident" the reforms would deliver "even more affordable homes" which was "contrary to the somewhat knee-jerk reaction of some".
On the long-delayed Social Housing White Paper, the housing secretary said he was "committed" to taking it forward this year.
"We made the decision to pause it during the pandemic because we wanted it to achieve the prominence that it truly deserves, and that tenants in social housing have the opportunity to hear and understand quite how significant this paper and the new changes that it will bring forward could be for them," he added.