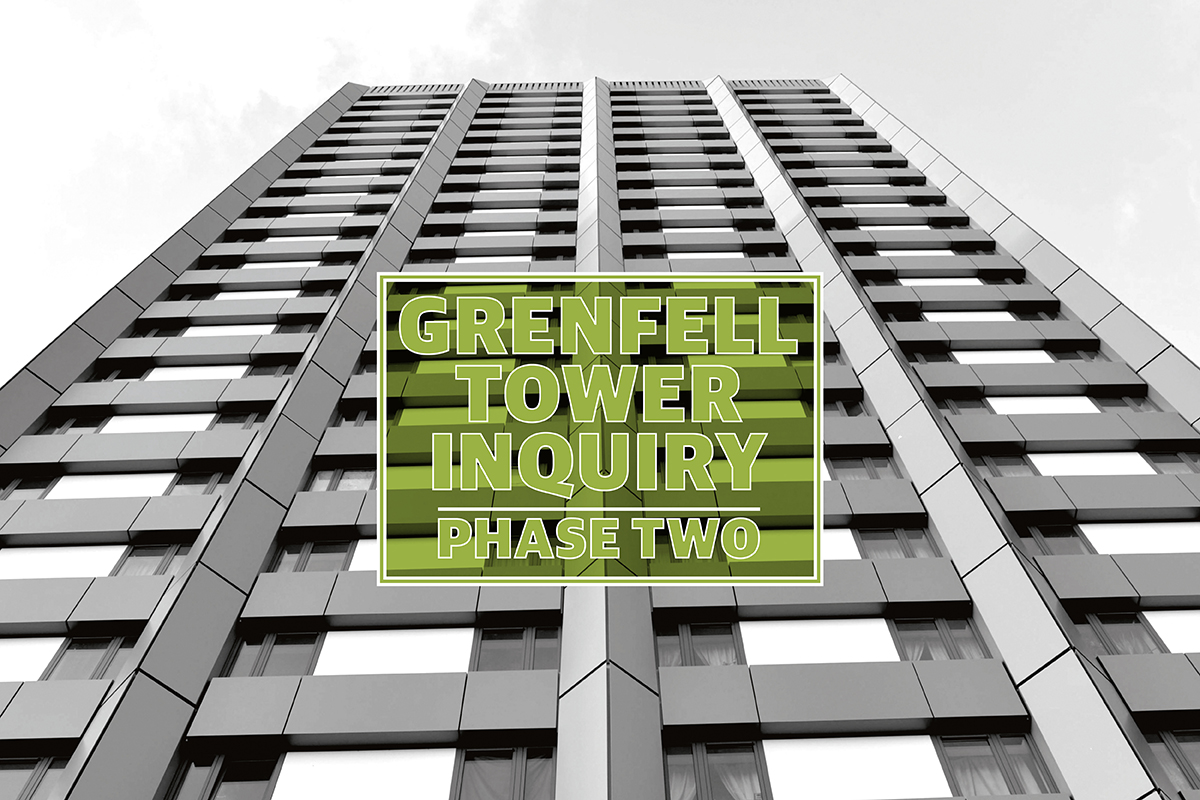 The week ended with questioning of Peter Maddison (pictured above), former director of assets and regeneration at KCTMO. This was also the second appearance for Mr Maddison after he appeared in module two. As the most senior KCTMO figure who gave evidence this week, we learned more about wider structural issues within the TMO that allowed the more specific disrepair problems at Grenfell to occur.
Mr Maddison told the inquiry when he joined the TMO in early 2013 he quickly realised there were several issues with health and safety at the organisation, including difficulties in obtaining data about "levels of compliance on all of our statutory areas of servicing".
These issues were picked up during an audit by RBKC in 2013 in which the council identified "risk control shortcomings that if left unresolved could potentially expose the business and those in H&S management positions to corporate and personal liabilities".
We saw minutes from a meeting in 2014 that confirmed KCTMO had 1,400 actions outstanding following fire risk assessments (FRA), a legally required inspection that identifies any fire risks within a building. Mr Maddison said this number was "high" in relation to KCTMO's stock.
Around this same time senior KCTMO figures decided in one meeting not to disclose the size of the backlog to the LFB because of a fear that "this would result in more scrutiny from the LFB and also possible enforcement action".
Mr Millett then spent the best part of a day going through minutes from KCTMO health and safety meetings from 2013 until weeks before the fire in 2017. In summary, the minutes showed that KCTMO slowly managed to reduce the backlog over several years but never fully eradicated it. In 2017, there were still a small number of actions that had been uncompleted for more than a year.
"During the period that you attended operational health and safety meetings and the health and safety committee meetings of the TMO do you agree that there was continual and frequent discussion about the importance of clearing FRA actions?" asked Mr Millett.
"Yes," Mr Maddison replied.
"Do you agree that those discussions were already taking place when you joined the TMO in January 2013 and that they were still taking place in the days before the fire?"
"Yes," responded Mr Maddison.
However, Mr Maddison said he did not agree that KCTMO "never fully got to grips with completing FRA actions" and that the organisation went on a "significant journey of progress" from 2013 to 2017.
We also learned during Mr Maddison's evidence that RBKC had decided against undertaking an inspection programme of fire doors within the borough in the months before the fire at Grenfell, despite KCTMO being advised to do so by the LFB.
A number of issues were identified with the fire doors at the Grenfell Tower on the night of the fire, including that many did not self-close meaning smoke could easily spread from flats into communal areas.
KCTMO was alerted to this issue within its stock by the LFB in 2015 following a fire in another Kensington block, Adair Tower.
LFB requested KCTMO fit all its doors with self-closers and carry out regular inspections to ensure self-closers had not been removed or were broken. In 2016 the LFB issued a deficiency notice for Grenfell Tower, which raised the fact that the escape route out of the tower had "been compromised by the fitting of doors that do not self-close".
Despite this, we saw minutes from a meeting between KCTMO and RBKC in March 2017 that said the council had decided to "hold off recommending inspections programme at present". The minutes noted the "huge cost" of such a programme and said that KCTMO could be open to liability if the doors did not work.
"It looks to the naked eye as if at this meeting the tone of the discussion was one of resistance to the LFB's expectation that the TMO install self-closers and maintain them," Mr Millett said.
"No, I don't agree with that. I think there was an acceptance that this needed to be done," Mr Maddison replied.