News
27.01.21
by Peter Apps
A key witness from the firm which sold the deadly cladding panels for use on Grenfell Tower will give evidence to the inquiry following pressure from survivors and bereaved.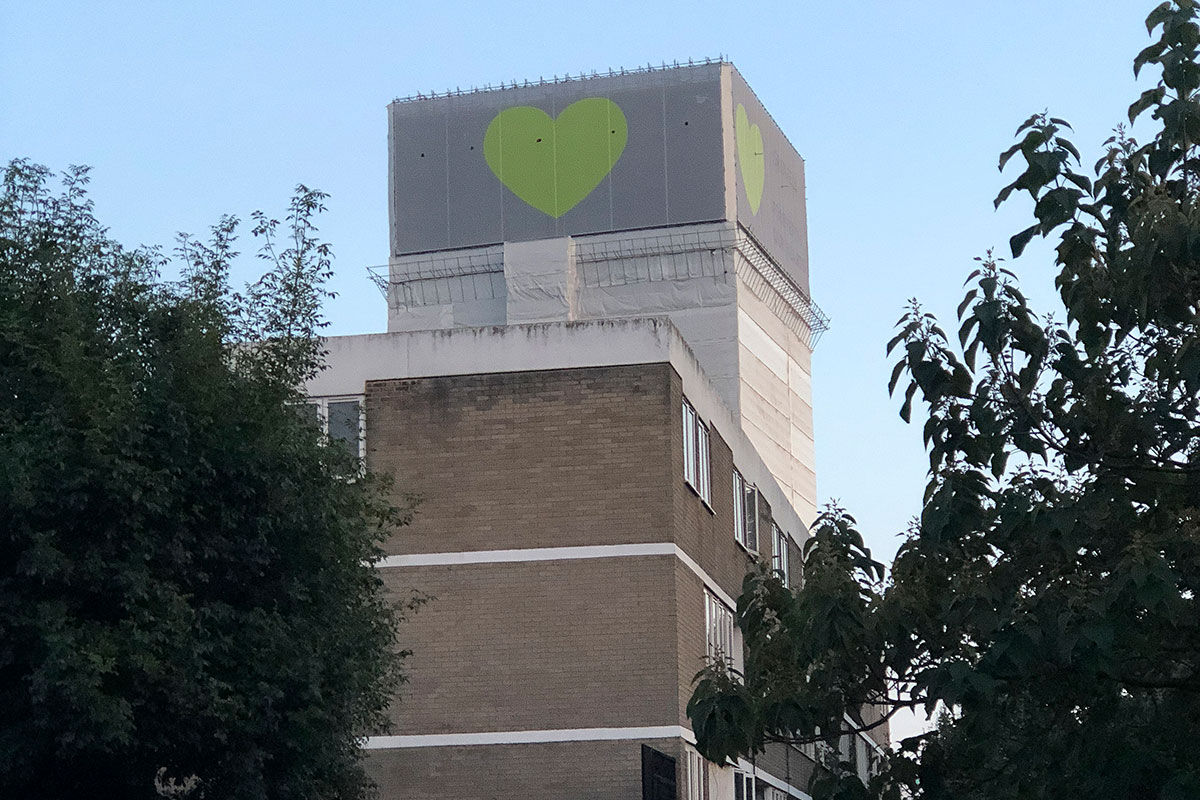 Picture: Sonny Dhamu
Claude Schmidt was one of the witnesses from Arconic who the inquiry had said was initially not planning to attend to give evidence, citing an obscure French law which penalises disclosure to foreign courts.
Following an assurance from the French government that this law would not be applied in December, Mr Schmidt had indicated he was willing to attend, but only under terms which the inquiry said it could not accept.
Today, however, in a letter seen by Inside Housing, the inquiry confirmed to core participants that Mr Schmidt will give evidence when the inquiry resumes in February.
---
---
"We have been informed by [solictiors for Arconic] that Claude Schmidt has now agreed to attend to give oral evidence to the inquiry, notwithstanding Arconic's previous objections based on the French Blocking
Statute. He will give his evidence through a French language interpreter," the letter said.
Mr Schmidt will commence his evidence on 15 February and will be questioned for four days.
It appears two further witnesses for Arconic – Gwenaelle Derrendinger and Claude Wehrle – are still maintaining their refusal to give evidence. Both are based in France and there is no legal power the inquiry can use to compel them to give evidence. Two UK-based witnesses from the firm will attend, beginning their evidence in the week commencing 8 February.
The refusal of the Arconic witnesses to appear at the inquiry sparked outrage from survivors and bereaved, some of whom held a protest outside the French embassy before Christmas.
Lawyers for the bereaved and survivors have accused Arconic of concealing the risks of their polyethylene (PE) cored aluminium composite material cladding panels following several failures in French fire tests in the mid-2000s.
These risks were discussed by email among some senior staff members, with Mr Wehrle writing in June 2015: "PE is DANGEROUS on façades… This opinion is technical and anti-commercial, it seems."
The letter reveals Arconic witnesses will begin their evidence when the inquiry resumes on 8 February following a break to allow it to convert to remote hearings due to the latest lockdown.
The firm's first witness will be Debbie French, the former UK sales manager, who sold the panels for use on Grenfell Tower, who will follow one final witness from insulation manufacturer Kingspan.
The inquiry will then hear witnesses from testing and research facility the Building Research Establishment (BRE), cavity barrier manufacturer Siderise, and six witnesses from certifier the British Board of Agrément (BBA).
This module of the inquiry will then conclude in the week commencing 15 March with the return of Kingspan witnesses Adrian Pargeter and Richard Burnley – who was part-way through his evidence when the inquiry broke early for Christmas due to a positive COVID-19 test among its team.
Mr Pargeter is returning due to "correct" evidence he gave relating to the presentation of a test on a cladding system to a parliamentary select committee in 2018, after the fire at Grenfell Tower.
He had been accused of "a deliberate attempt to deceive" the committee by failing to mention that the test – comprising non-combustible cladding and insulation – was set up to fail. He denied this.
Inside Housing has seen correspondence from Kingspan showing they believe this question was put in error, and that the evidence submitted to the select committee related to a different test.
List of remaining witnesses for module two
Week commencing 8 February
Andrew Pack (Kingspan)
Deborah French (Arconic)
Vince Meakins (Arconic)
Week commencing 15 February
Claude Schmidt (Arconic)
Week commencing 22 February
Phil Clark (BRE)
Stephen Howard (BRE)
Patrick Jones (sub-contractor to Simco)
Week commencing 1 March
Tony Baker (BRE)
David Jones (Herefordshire BC)
Christopher Mort (Siderise)
Richard Kay (Siderise)
Christopher Ibbotson (Panel Systems)
Week commencing 8 March
Hamo Gregorian (BBA)
Valentina Amoroso (BBA)
Prayer Nkomo (BBA)
Brian Moore (BBA)
Chris Hunt (BBA)
John Albon (BBA)
Week commencing 15 March
John Albon (BBA – to continue)
Adrian Pargeter
Richard Burnley