News
09 Apr 2021
by James Wilmore
GreenSquare and Accord have completed their merger to form a 25,000-home group nearly 14 months since talks between the two were revealed.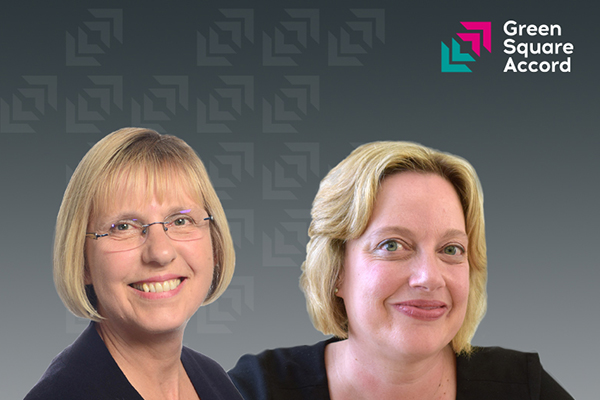 Chair Elisabeth Buggins and chief executive Ruth Cooke (picture: GreenSquareAccord)
The newly combined group will trade as GreenSquareAccord after the process completed earlier this week.
Under the arrangement, 13,000-home Accord has become the landlord to GreenSquare's tenants and shared owners. And Westlea Housing Association, previously part of GreenSquare, has become a subsidiary of the new group.
The merger was announced in February last year but was delayed as the two associations concentrated on their response to COVID-19.
---
---
In an update to tenants published on its website, Wiltshire-based GreenSquare said: "In time, we will use the extra resources resulting from the merger to expand and improve local delivery of services, across our larger operating area."
The newly combined group, whose properties will stretch between the West Country and the North East of England, is also aiming to build 1,000 new homes a year.
Ruth Cooke, chief executive of the newly merged group, and who had the same role at West Bromwich-based GreenSquare, said: "We now have the scale and capacity to build hundreds more new homes each year, and to increase available resource for investment in our existing homes.
Ms Cooke, who is also the former chief executive of Clarion and Midland Heart, added: "We will also be able to widen our overall offer to customers by increasing the breadth of our services such as care and support, building for sale, community-led housing and modern methods of construction."
Last October the Regulator of Social Housing upgraded GreenSquare back to G1 after it was downgraded in 2019 for "a clear lack of leadership around health and safety issues". It has a V2 rating for viability.
In an interview with Social Housing earlier this year, Ms Cooke and Stuart Fisher, formerly Accord's chief financial officer who has taken the same role at the new group, branded the deal as a "merger of equals".