News
19.07.21
by Lucie Heath
The Greater London Authority (GLA) has decided to keep two hotels used to house rough sleepers during the pandemic open to support those with "immigration needs" despite restrictions ending today, amid claims that the Home Office is slowing down the process to move them into permanent accommodation.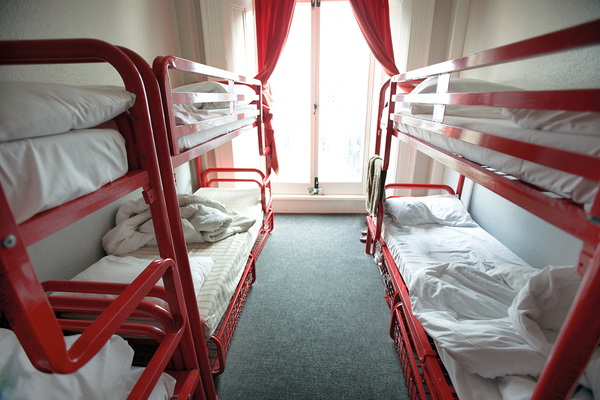 Picture: Getty
Sharelines
---
As lockdown rules ends in England the GLA has confirmed it is keeping two 'Everyone In' hotels open to help people resolve immigration issues #UKhousing
---
"Current government immigration and welfare rules mean that an offer of sustainable accommodation in the UK might unfortunately not be available for a number of non-UK nationals even after receiving immigration advice and casework support" #UKhousing
---
The GLA has confirmed to Inside Housing that it will keep open two of the hotels it took over during the COVID-19 pandemic as part of the Everyone In effort to house rough sleepers, as lockdown rules in England are officially lifted.
These hotels will mostly be used to house rough sleepers with "immigration needs", meaning they are currently in the process of determining their eligibility for support from the state.
City Hall has concluded that the hotels must remain open to support people in this group, with the organisation running the facilities warning that Home Office processes are slowing down attempts to move them into longer-term homes.
A spokesperson for London mayor Sadiq Khan said: "The mayor and his team are continuing to provide safe accommodation to rough sleepers with immigration needs, with support through specialist migrant services to determine eligibility and, where relevant, to apply to the EU Settlement Scheme or make other relevant applications."
They added: "However, current government immigration and welfare rules mean that an offer of sustainable accommodation in the UK might unfortunately not be available for a number of non-UK nationals even after receiving immigration advice and casework support.
"Therefore, the mayor will continue to oppose the hostile environment and advocate for changes to immigration-based restrictions as well as additional funding for local government. Without these it will not be possible to resolve rough sleeping in London, and the government will fail to meet their commitment to end rough sleeping by the end of this parliament."
---
---
Inside Housing has asked the GLA to confirm whether it has been forced to evict from the hotels any migrants who have not been able to establish an entitlement for welfare benefits.
Two weeks ago, Inside Housing revealed that the government told councils to close the hotels they had used to house rough sleepers during the pandemic as a condition of the latest round of rough sleeper funding, intended to provide move-on accommodation.
According to government figures, 37,000 individuals have been supported as part of the Everyone In scheme, which saw councils offer emergency accommodation to all homeless people, regardless of whether they would normally be eligible for support.
Petra Salva, director of rough sleeping, Westminster and migrant services for St Mungo's, which manages the GLA's hotels, said the partnership has now entered what they are calling the "recovery phase".
This involves a return to St Mungo's 'No Second Night Out' programme, where outreach workers bring people to one of the charity's three London hubs and staff "identify a viable, safe housing option for each person, ideally within 72 hours".
Ms Salva said: "We've had huge successes in moving people on from the emergency provision but I suppose the crunch point comes for those that have either more complex needs or people with unresolved immigration issues or unclear status or entitlements in this country.
"With the new phase from July – this kind of cliff edge point – the idea is that there will still be two London hotels running because there will be a cohort of clients with immigration issues that you just can't move on quickly.
"Legal advice and case work can be complex and lengthy and Home Office processes can be slow; these cases are the ones that need more time to resolve and these are the people that remain in the Greater London Authority emergency provision."
Ms Salva said that more needs to be done to speed up the length of time it takes to help solve immigration issues and that she has seen it take more than one year for an individual to receive copies of new documents.
Those remaining in the GLA's hotels include EU nationals who have applied to the government's EU Settlement Scheme, the process for which Ms Salva described as "slow" and "long".
It comes as a recent report by the Public Interest Law Centre warns that homeless EU citizens have struggled to access the settlement scheme, meaning an "unknown but significant" number will become undocumented migrants this year.
A government spokesperson said: "We have been clear that councils should exhaust all options to support this cohort, which includes supporting individuals to regularise their status.
"Funding has been provided to support this, including through the Next Steps Accommodation Programme and the Rough Sleeping Initiative.
"The government has also provided £21.5m to organisations to help vulnerable EU citizens apply for the EU settlement scheme.
"We offer a voluntary returns service, which is a long-standing option and can provide practical support to people who wish to return to their home country, where they need help to do so and have no right to remain in the UK."