News
04.12.20
by Dominic Brady
Ministers have announced proposals to extend rules allowing developers to bypass the planning system to even more building types and slash application decision times.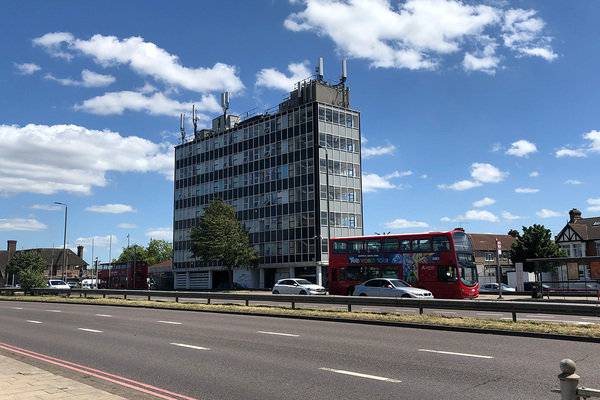 Newbury House in Redbridge, a former office building repurposed into flats (picture: Sonny Dhamu)
In a new consultation published on Thursday the government said new proposals would seek to "simplify and rationalise" existing permitted development rights (PDR).
The proposals include a new national PDR for the change of use of shops, banks, restaurants, gyms, creches and offices to residential use.
Previously the policy allowed for office buildings and only some commercial spaces to be converted.
It comes after the government announced and quickly implemented a significant expansion of the controversial policy this summer as part of prime minister Boris Johnson's "project speed" to create an economic stimulus in response to the COVID-19 pandemic.
---
---
The changes were made despite a government-commissioned report concluding that permitted development creates lower-quality homes.
Having faced staunch criticism, ministers later moved to ensure that all homes built through PDR would have to meet space standards.
The new proposals, announced yesterday, suggested reducing the time for decision-making on applications for new hospitals, schools, colleges and prisons from 21 days to 14 days.
The government argued that this reduction is appropriate as it expects that "many of these developments will have already been subject to extensive prior engagement with the local community".
Schools, colleges, universities, hospitals and prisons will also be allowed to expand by up to 25% of the footprint of the current buildings or up to 250 sq m, compared to a cap of 100 sq m previously.
According to the consultation, the new proposals offer the "opportunity to simplify and rationalise those existing rights, and then to bring forward appropriate legislative amendments before 31 July 2021".
Fiona Howie, chief executive of the Town and Country Planning Association, said: "We absolutely do need more homes and we need to reinvigorate our high streets and town centres. But further expanding permitted development rights is not the way to do it because it risks delivering poor-quality homes that undermine people's health and well-being."
Ms Howie argued that the latest consultation is "emblematic of the government's desire to deregulate the planning system" and showed that it "wants to give communities as little voice as possible".
The Ministry of Housing, Communities and Local Government has been approached for comment.