News
11.12.20
by Dominic Brady
Sites earmarked for more than a million homes by councils in England are still waiting for developers to submit plans, according to analysis by the Local Government Association (LGA).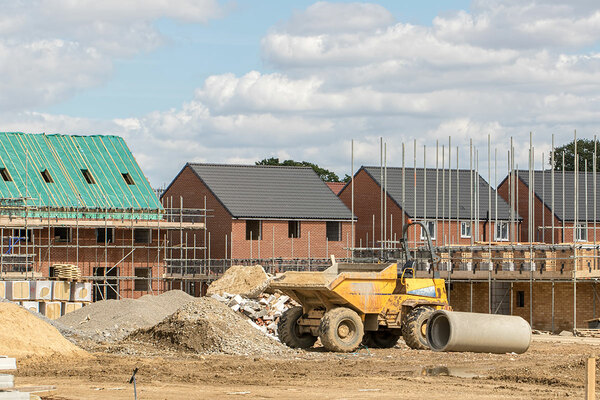 Picture: Getty
The LGA found that more than a third of the 2,676,000 homes allocated in current local plans in England are not yet subject to a planning application, amounting to 4.4 years' worth of housing supply.
There is "no evidence" that the planning system is delaying developments, the LGA said, noting that councils continue to approve nine in 10 planning applications and subsidise planning applications by around a third.
The body called on the government to give town halls powers to incentivise developers to bring allocated sites forward without delay, or intervene where development has stalled.
David Renard, housing spokesperson for the LGA and leader of Swindon Council, said: "There is no evidence that the planning system is holding up developments.
"Our research shows the opposite, with over a million homes earmarked for development that are yet to be brought forward by developers."
In August, the government laid out proposals for sweeping changes to England's system for approving development in the Planning White Paper.
Among the policies put forward was a significant reduction in the role played by local plans, which are currently used by councils to decide which sites should be developed, in favour of a new zonal approach.
---
---
Mr Renard added: "This is another example of our broken housing delivery system, and shows why councils need to be given the powers to ensure desperately needed homes are getting built in a swift and timely manner."
The Ministry of Housing, Communities and Local Government (MHCLG) has been approached for comment.
The analysis follows an open letter sent by more than 2,000 councillors alongside the Campaign to Protect Rural England (CPRE) and Friends of Earth charities calling for the government to abandon its radical overhaul of the planning system.
In the letter councillors, of which 350 are Conservatives, warned that the planning reforms "could radically reduce protections for nature, local green spaces and fail to tackle climate change".
In response to the letter MHCLG said the concerns were "entirely unfounded and demonstrate a misunderstanding of our proposals".
"The proposals will put local democracy at the heart of the planning process, enabling green belt decisions to remain with councils and giving communities real influence over development location and design," a spokesperson said.
Last month CPRE research found that more than 40% of Conservative backbenchers are considering voting against measures in the Planning White Paper.