News
22.07.21
by Lucie Heath
Five more housing associations have joined an alliance of social landlords in the North aiming to deliver 10,000 offsite homes per year.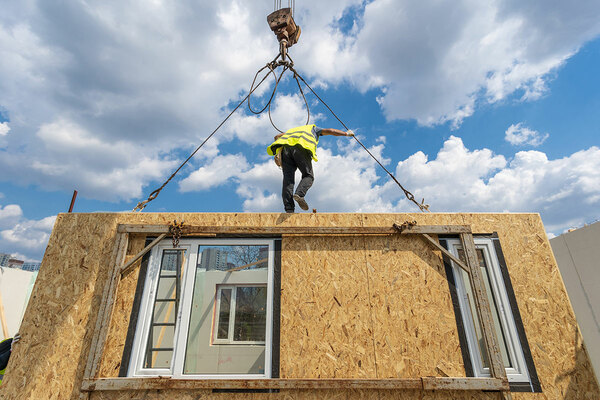 Picture: Getty
In the last few months Bernicia, Incommunities, Ongo, ForViva and WDH have joined the existing members of the Offsite Homes Alliance (OSHA), bringing the total membership to 23.
Mike Ormesher, project director of OSHA, told Inside Housing the group is also talking to a number of city regions, local authorities and eight to 10 other housing associations about joining the alliance.
OSHA is using the Innovation Chain North Dynamic Purchasing System (DPS), which was originally set up by alliance member Great Places, to onboard suppliers.
This week the DPS opened to applications from suppliers of Modern Method of Construction (MMC) Category 1 and MMC Category 2 technologies.
The alliance aims to be delivering homes using these technologies by the end of the year.
Mr Ormesher, who was previously a director at the modular firm Top Hat, said: "What we're looking to do rather than just onboarding suppliers or saying 'here's a load of homes come and build them as you want', our ambition really is to onboard those suppliers to work with us to deliver a better product than we get today."
---
---
The alliance has recently onboarded a London-based architecture practice, Pollard Thomas Edward, to design a pattern book and zero-carbon strategy for the group.
At first the zero-carbon strategy will be focused on operational carbon, but Mr Ormesher said the group is interested "in how that looks from a long-term embodied carbon journey as well".
OSHA has also onboarded Cast Consultancy, which is led by the government's MMC Champion Mark Farmer.
The University of Salford has been commissioned to act as an academic partner, while OSHA is still in conversation with a number of other academic institutions.
"What we plan to do is to set up a forensic team so that once we start working with the manufacturers on identified sites we can then start analysing," Mr Ormesher said.
He said the alliance is "the final stages of finalising our business case for something called the Offsite Performance Centre", which will be "a central hub for all stakeholders", including "manufacturers, the client, regulators, insurance companies, warranty providers".
"We're going to have a matrix of intelligence to be able to deliver offsite construction with all the forensics and analysis and this will also serve as a meeting and conference centre," Mr Ormesher said.
Last week, a National Housing Federation (NHF)-backed group of social landlords announced it had selected three modular manufacturers – Ilke Homes, Impact Modular and TopHat – to a volumetric framework that is worth £600m over five years.