News
04 Jun 2021
by Sarah Williams
ESG-wrapped capital markets issuance for non-profit housing associations (HAs) has landed firmly in the mainstream, with total notes in circulation now exceeding £4bn, Social Housing analysis shows.
Picture: Getty
Sharelines
---
ESG capital markets issuance exceeds £4bn for housing associations #UKhousing #SocialHousingFinance #ESG
---
ESG-wrapped capital markets issuance for non-profit HAs has landed firmly in the mainstream, with total notes in circulation now exceeding £4bn, @HousingMagazine analysis shows #UKhousing #SocialHousingFinance #ESG
---
The latest transaction by G15 member Notting Hill Genesis (NHG), a £250m bond issued on 3 June, puts own-name public issuance by associations under a 'sustainability' label at £2.15bn since the first by Clarion in January 2020. The total includes outings by six associations, the others being Aster, PA Housing, Beyond Housing and Paradigm.
Issued with a 15-year tenor through its new £2bn Euro Medium-Term Note programme, London and South East-based NHG priced its debut sustainability bond at 100 basis points (bps) over gilts last week, on 26 May.
The deal has a coupon of two per cent and an all-in cost of funds of 2.080 per cent, and will be used mainly to fund the delivery of new homes either for social housing, including general needs and shared ownership, or broader tenures built to a standard of at least EPC Band B.
Paul Phillips, chief financial officer at the c.66,000-home organisation, referred to the process as an "important step for Notting Hill Genesis" that improves liquidity and "establishes [the group] further in the capital markets".
Added to the circa £2bn of combined HA sustainability issuance is the sector's first ESG-labelled bond issued back in 2014 by Cross Keys Homes for an initial £150m. It later tapped the 2045 bonds for a further £100m in September 2019, with a deferred drawdown.
---
---
Referred to at the time as a 'green' or ESG bond, the 2014 documents commit the association to a 'use of proceeds' comparable to those seen on recent sustainability bonds, but predate the current International Capital Market Association (ICMA) definitions of 'green', 'social' and 'sustainability' bonds.
In addition to public issuance, two HAs to date are known to have accessed the capital markets through ESG-wrapped private placements, totalling £205m, as announced in April and May this year. The first, an £85m sustainability-linked private placement agreed by North East-based Believe Housing with LGIM Real Assets, will see the provider receive a discount on the interest rate it pays if it delivers pre-agreed KPIs relating to the energy efficiency of its homes. The second, a £120m 'green' placement between Origin and four undisclosed North American investors, takes a 'use of proceeds' approach, seeing it commit to using the funds to deliver energy-efficient buildings.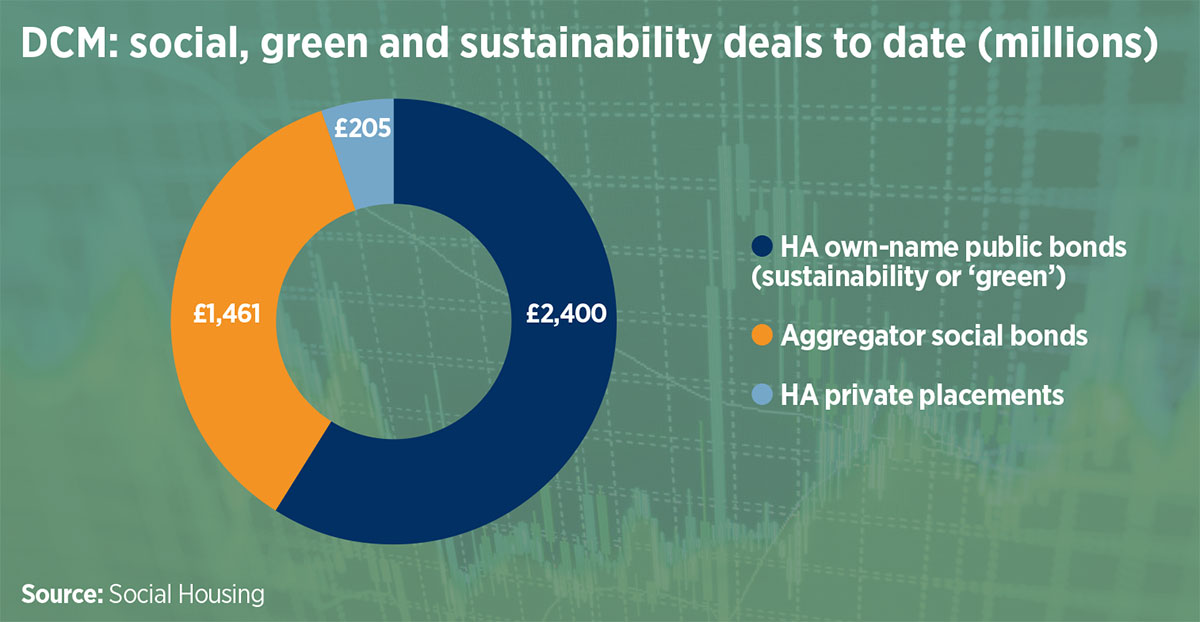 Grant Vaughan, partner at Newbridge and previously at Lloyds when it acted as the ESG-structuring bank on the 2014 Cross Keys deal, said that the process to issue sustainability-wrapped debt has become more formalised in the intervening years, with the launch of the latest ICMA and Loan Market Association principles. Meanwhile, adoption is becoming widespread.
"I'd be surprised if there was any more than a handful of non-sustainable bonds issued out of the sector now. I think it's just going to become the norm," he said.
Numerous associations have already launched or are due to launch sustainability finance frameworks, while around 90 HAs and funders have signed up to the Sustainability Reporting Standard for Social Housing since November.
But uncertainty remains over whether the labels will lead to better pricing in the long term.
Speaking ahead of the launch of its social bond framework in early May, THFC chief executive Piers Williamson suggested that over time the use of labels might become "a hygiene factor for investors – that they will say if it isn't social or sustainable we will charge you more".
The group's subsequent first new issuance under its label, a £35m tap of Blend's 2054 maturity, was reported to have priced at a spread 5bps inside the secondary market, and similar discounts have been cited on a number of other ESG transactions to date.
However, at the recent Social Housing Finance Conference, one HA chief executive suggested that the current discounts on offer were not "even close to being enough".