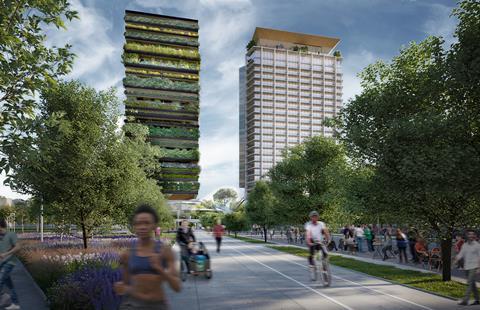 US practice Diller Scofidio & Renfro has triumphed over a starry shortlist to land a €300m redevelopment project in the centre of Milan, its first in Italy.
The Pirelli 39 project, for property investors Coima, will see a 26-storey post-war tower retained for offices but significantly altered to bring it up to modern environmental standards. A residential tower and a bridge building, both featuring extensive vegetation, will be added to the site.
Working with local practice Stefano Boeri Architetti, High Line architect DSR beat 70 teams from 15 countries.
The other finalists were David Chipperfield Architects, Heatherwick Studio, Denmark's 3XN, Italy's Vittorio Grassi working with Woods Bagot, and France's Wilmotte & Associates.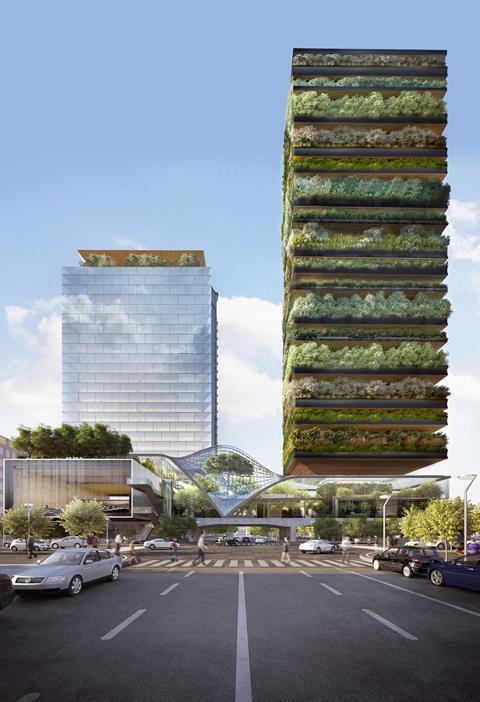 Pirelli 39, known as Pirellino, is in the Porta Nuova area of rapid redevelopment just north-east of the centre of Milan, between the central station and the tree-covered Bosco Verticale flats. These apartment blocks, which shot Boeri to international and Instagram fame in 2014, bear more than a passing resemblance to the proposed new tower and were also developed by Coima.
Built partly with timber, this new tower will contain 2,770sq m of PV panels, allowing it to produce a projected 65% of its energy needs, and 1,700sq m of vegetation which the developers said would absorb 14 tons of carbon dioxide a year.
The bridge building, spanning a road, will contain a greenhouse and space for events. The third element is the retained former municipal building which is 90m tall and has been empty since 2013.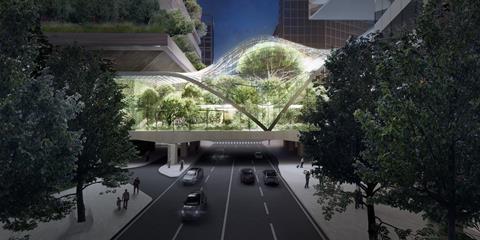 The competition was launched in November 2019, the year Coima acquired the site from the city authorities for €194m and the year after it launched a similar retrofit project on a neighbouring modernist tower – PLP's Corso Como Place. Coima's wider plans for the district also include the refurbishment of a nine-storey 1960s office block known as Pirelli 35. Snohetta, working with Italian practice Park, won that project after being shortlisted against KPF.
The Pirelli tyre company's first factory was established in Milan in the 19th century. The firm's boss after the Second World War, Alberto Pirelli, commissioned the 39-storey Pirelli tower – nicknamed Pirellone – from Gio Ponti in 1950. When it opened in 1958 it was the second-tallest building in the country, a title it clung on to until 1995, and is said to have inspired New York's famous Pan Am building, now the Met Life building. Pirellone was hit by a light plane in 2002, initially sparking fears of a terrorist attack. It is not part of the Pirelli 39 project.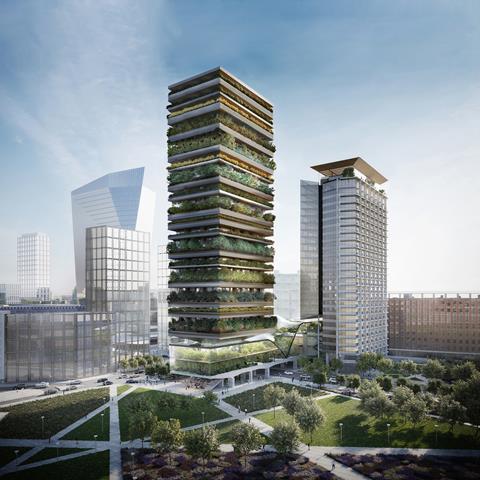 The jury was chaired by Gregg Jones, partner at Pelli Clarke Pelli which masterplanned the Porta Nuova Gioia redevelopment area.
Stefano Boeri said: "This project will reinvigorate the iconic former Pirellino building, creating a new tower that mixes architecture and nature to create a green space that is open to the whole city. In such a difficult period, this project relaunches the vision of a forward-looking Milan and bravely faces the great challenges of the climate crisis."
Elizabeth Diller, partner at DSR, said: "Our studio is thrilled to have this opportunity to make a meaningful architectural contribution to the city of Milan, our first project in Italy."