News
21.12.20
by Lucie Heath
The government has allocated £310m in grant funding to help councils prevent people falling into homelessness next year.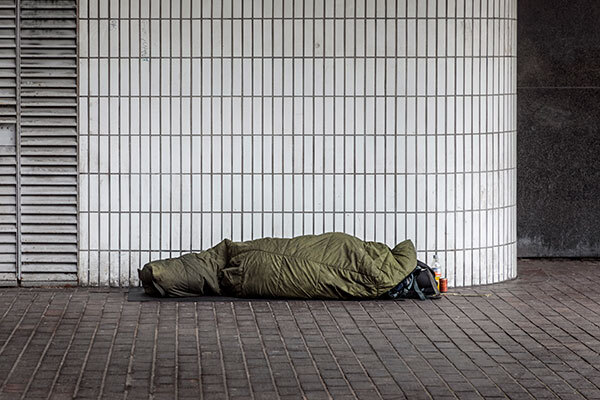 As of September, the government's Everyone In scheme had supported more than 29,000 people (picture: Getty)
The Homelessness Prevention Grant will combine what was previously the Flexible Homelessness Support Grant and the Homelessness Reduction Grant with funding for these measures to be increased by £47m on current spending.
Funding will be targeted at areas with high numbers of homelessness, including those living in temporary accommodation.
Local authorities can use the money to offer financial support for people to find a new home, to work with landlords to prevent evictions or to provide temporary accommodation, among other preventative measures.
The government said the funding underlines its commitment to enforcing the Homelessness Reduction Act, which was introduced in 2017 and placed more duties on councils to prevent homelessness.
Local authority data suggests that more than 270,000 households have had their homelessness successfully prevented or relieved since the act was introduced, with councils helping them to secure accommodation for more than six months.
---
---
Today's announcement brings the total funding to tackling homelessness and rough sleeping next year to £750m, which the government said will allow it to build on the work it has done on homelessness during the COVID-19 crisis.
Other funding includes the allocation of £91.5m to councils to fund immediate support and interim accommodation to people experiencing homelessness during the COVID-19 crisis.
As of September, the government's Everyone In scheme, which sought to house all rough sleepers in the early stages of the COVID-19 crisis, had supported more than 29,000 people.
However, charities have warned that rough sleeping has returned to pre-pandemic levels in some areas and have urged the government to guarantee self-contained accommodation for all homeless people over the winter period.
Meanwhile, councils in London have said that homelessness in the capital is approaching its worst-ever level, with nearly 90,000 children set to spend Christmas in temporary accommodation.
Communities secretary Robert Jenrick said: "As we look back on an incredibly challenging year, everyone who has helped protect rough sleepers and those at risk of homelessness during this pandemic should be proud of the role they have played in our internationally recognised response.
"Today I am announcing £310m to help councils protect those at risk of homelessness in the year ahead. We have a moral duty to help some of the most vulnerable people in our society rebuild their lives and look forward to a brighter future, and this funding will help us to realise that ambition.
Minister for housing and rough sleeping Kelly Tolhurst said: "All of the charities, councils, housing providers and support groups have truly gone the extra mile this year to protect the most vulnerable in our society throughout the pandemic and I want to wholeheartedly thank all of those who have made this possible.
"This new funding will play a vital role in helping councils provide better support to prevent people from becoming homeless in the first place as we look to end rough sleeping once and for all."