News
17.09.21
by Peter Apps
Conservative rebels will push for three amendments to the forthcoming legislation in a bid to force the government to protect leaseholders facing huge costs, the MP leading the rebellion told a rally of campaigners in central London on Thursday.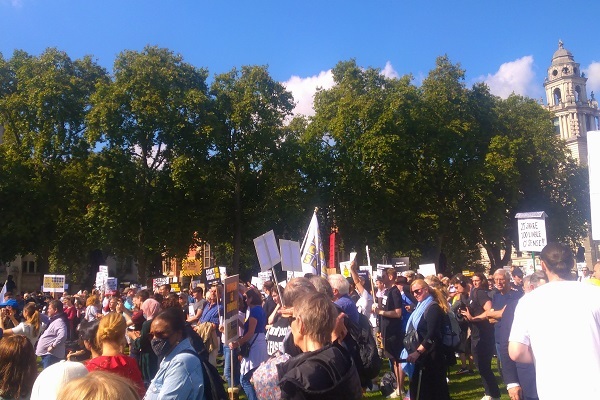 Protestors gathered at Parliament Square for the rally (picture: Peter Apps)
Stephen McPartland, Conservative MP for Stevenage, unveiled his plans at the 'Leaseholders Together' rally, which saw more than 1,000 affected residents from all over the country gather outside the Houses of Parliament to protest the government's failure to protect them from the costs of repair work.
They heard supportive speeches from across the political spectrum, including London mayor Sadiq Khan and Iain Duncan Smith, MP for Chingford and former leader of the Conservative Party.
---
---
Mr McPartland told the crowd that he would table three amendments to the Building Safety Bill when it returns to parliament in the autumn.
These will seek a zero VAT rating for all remediation work and waking watch costs, a government-backed insurance scheme, and legislative protection to prevent costs being passed down to leaseholders.
The VAT rating would be backdated, meaning those who have already paid out would receive a rebate.
The chancellor currently stands to gain billions from VAT paid on remediation work and has so far resisted all calls to zero-rate the work.
Mr McPartland said the insurance programme would be based on an existing scheme for uninsured drivers to guard against the huge insurance hikes people in blocks of flats with dangerous cladding have faced.
The final amendment would be based on legislation passed in the 1980s to protect Right to Buy purchasers of faulty prefabricated homes. The rule would be extended to cover those in flats with fire safety issues, meaning they could not be recharged for works.
Along with colleague Royston Smith, Conservative MP for Southampton Itchen, Mr McPartland led a similar rebellion seeking amendments to the Fire Safety Bill in February this year, which ultimately attracted support from around 30 fellow rebel MPs.
To win, Mr McPartland would need to extend the dissenters to around 40 and also attract the support of the Scottish National Party, which abstained on the previous vote.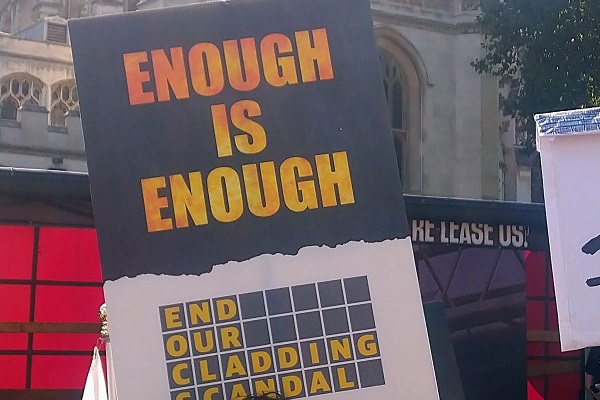 The protest heard speeches from supportive politicians across the spectrum (picture: Peter Apps)
He told Inside Housing: "This is about fairness ultimately, and standing up for people who have bought their home – which the Conservative Party should be doing.
"We will keep voting and we won't stop voting. We will take it all the way."
Mr McPartland received a warm reception at the rally, which saw affected leaseholders gather in the sunshine on the doorstep of parliament to send a message to MPs about the strength of feeling about the crisis.
Handmade banners directed criticism at prime minister Boris Johnson and recently departed housing secretary Robert Jenrick, with both booed loudly if they were mentioned in speeches.
Chants of "abolish leasehold" and "we want justice" mingled with calls on new housing secretary Michael Gove to meet with campaigners and hear their concerns.
Mr Duncan Smith led the crowd in chants directed at his fellow Brexiteer and former cabinet colleague, urging protestors to ensure he heard their concerns. Mr Duncan Smith also promised to vote for the amendments and drew loud cheers when he said developers had got off "scot-free" after building "illegal" homes.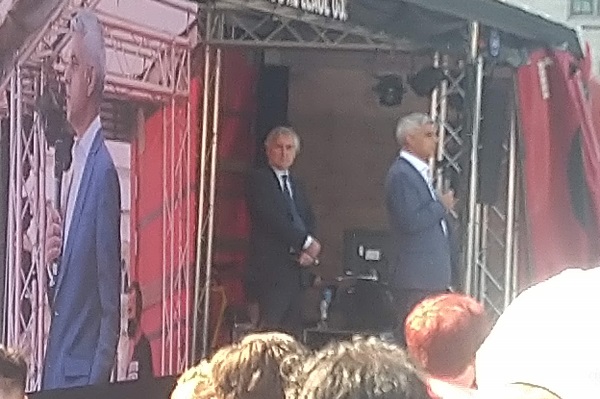 Sadiq Khan, mayor of London, addresses the crowd (picture: Peter Apps)
Mr Khan said government should pay for the remediation of affected buildings. "The government should pay for all of these homes to be made safe," he said. "They can have the argument with those who constructed them, or the landowner later on."
Liberal Democrat front bencher Daisy Cooper also spoke along with Labour's Mike Amesbury and Sarah Jones – making the rally a crossparty event.
The politicians were joined by Karim Mussilhy, who lost his uncle in the Grenfell Tower fire. He said: "We can't continue to allow these cosy relationships between our leaders and those responsible for killing our families," he said. "The longer I do this I tend to understand the system is not broken, it was built this way."
The government has put just over £5bn into cladding remediation – but this money only covers buildings over 18m and is limited to the specific removal of combustible cladding.
As a result, hundreds of thousands are still trapped in unsellable homes and face bills running into six figures to pay for repairs.