Grimshaw was left counting the cost of covid and its impact on its key aviation business last year as the firm said monthly income had nosedived a third since the pandemic took hold last spring.
The architect was already facing a major headache before covid struck last March when a Court of Appeal decision a month earlier ruled the UK government's airports policy, which included expanding Heathrow where it has been masterplanner, breached the 2016 Paris climate agreement.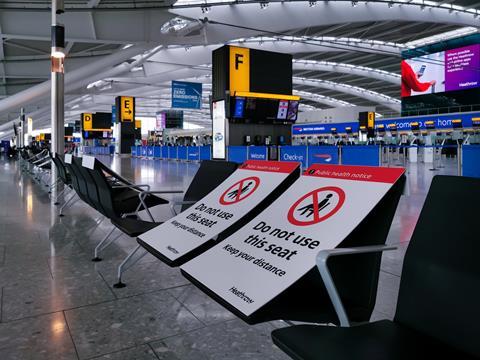 Last December, the Supreme Court, the UK's highest, overturned the decision and said Heathrow could press ahead with plans to build a third runway but by then the airports sector was in the middle of its biggest crisis for years having been decimated by the impact of covid.
According to figures it released last month, the number of passengers using Heathrow airport between April last year and this March collapsed by 88% to just 9.1 million. The biggest fall was in passengers to North America which numbered just 826,000 – a slump of 95.5%.
In its accounts for the 18 months to September 2020, Grimshaw, which is also working on a masterplan to upgrade New York's JFK airport, said the pandemic had "resulted in the suspension or abandonment of various projects, particularly in the aviation sector". As a result, the firm said its monthly revenue had dropped by 35% from April last year compared to the previous 12 months forcing it to cut jobs.
It said monthly revenue has since recovered to being around 20% down and its chief financial officer Neil Boyde added: "The last 12 months have been undeniably tough for Grimshaw with the combined impact of the pandemic and the suspension of work on the Heathrow Airport expansion leading to a loss of approximately one third of our revenue. Significant cost cuts have been necessary in order to protect the business; however […] we are now seeing significant growth and improving profitability."
Following last February's Heathrow ruling the practice was forced into a round of job-cutting, later admitting covid and the collapse in aviation work meant it had to "reduce headcount significantly as a result".
The firm said 25% of staff went in the period but added less than half of these were through redundancies.
The firm also claimed £660,000 in furlough money from the government's Coronavirus Jobs Retention Scheme between March, when it was introduced, and its year-end last September. It added that it also claimed a further £1.4m from the Australian government's equivalent, called Job Keeper.
A Grimshaw spokesman said no more staff at the business, which according to the accounts numbered 620 in September 2020, were left on furlough.
In the 18 months to September 2020, turnover at the business was £118.2m – an average monthly income of £6.6m – compared to £74m in the year to March 2019, beating that period's monthly average by £400,000.
But pre-tax profit fell from £9.5m – and a monthly average of £791,500 – to £8.5m meaning average monthly pre-tax profit slumped to £472,000, a fall of 40%.
The firm's coffers were helped by a £12.4m windfall in a compensation payment from having to give up a lease on an office for its New York studio ahead of that building's redevelopment.