News
04.06.21
by Nathaniel Barker
Cladding scandal victims will stage a series of protests outside developer showrooms across the country this weekend demanding action over the continuing building safety crisis.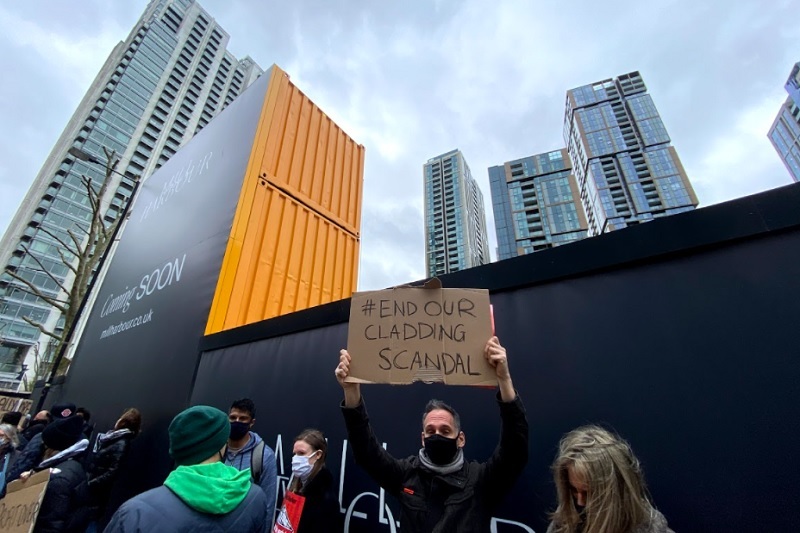 Picture: Harry Scoffin
Leaseholders facing huge bills to remove unsafe materials from their buildings will target new home sales offices at the protests tomorrow, organised by the End Our Cladding Scandal campaign and other groups.
Major house builders Barratt, Countryside, Bellway and Ballymore will be among the focuses of the protests.
Demonstrations are set to take place in eight locations across London and eight other towns and cities, including Manchester, Birmingham and Cardiff.
An End Our Cladding Scandal campaign flyer promoting the protests said: "The government has turned their back on us and the developers will not take responsibility.
"We're facing financial ruin and bankruptcy, mental health issues and homelessness because our homes are not safe from fire.
"We demand that developers fix our unsafe homes, which they built – and profited from."
---
---
End Our Cladding Scandal is a joint campaign between affected residents, Inside Housing and The Sunday Times.
Residents of Green Quarter in Manchester – one of the first developments where the scale of the cladding crisis began to emerge – will picket Manchester Town Hall.
Developer Lendlease, which built Green Quarter, is also the main contractor on the £330m refurbishment of Manchester City Council's offices.
Some Green Quarter residents are still facing bills of up to £30,000 each to fix safety issues discovered last month, having already had two types of flammable cladding removed from their blocks.
Stephen Squires, of Britton House Cladding Action Group, said: "The situation we and millions of other leaseholders find ourselves in is a national disgrace.
"We bought our homes in good faith trusting the architects, developers, builders and regulatory system to ensure they were safe.
"We have been failed by everyone and are now left with life-changing bills."
Ministers have made £5bn available to fund the remediation of dangerous cladding from high rises across England.
But residents say the money does not cover all the costs they are facing, while shorter blocks of flats do not qualify for grant, with leaseholders promised only a loan scheme.
Some estimates have suggested that up to 1.5 million people are affected by the crisis, with mortgage providers refusing to lend on homes in thousands of blocks.
The End Our Cladding Scandal Campaign is calling for a 10-step approach to fix the crisis, which would see government take a national leading role in removing dangerous cladding while protecting leaseholders from costs.
10 steps to End Our Cladding Scandal
Based on the recommendations of the Housing, Communities and Local Government Select Committee and backed by a range of sector bodies and MPs from across the political spectrum, these are Inside Housing's 10 steps to End Our Cladding Scandal:
The government must lead an urgent national effort to remove all dangerous cladding from buildings by June 2022.
The Building Safety Fund must cover all buildings, regardless of height, and a range of internal and external fire safety defects, not just cladding.
The government should provide the money up front and then seek to recover it from any responsible parties or via a temporary levy on development.
Social housing providers must have full and equal access to the fund.
The government must compel building owners or managers to be honest with residents about fire safety defects.
The government should cover the cost of interim safety measures.
The government should act as an insurer of last resort and underwrite insurance where premiums have soared.
A fairer, faster process is needed to replace the EWS form and funding is necessary to ensure all buildings requiring a form are surveyed within 12 months.
Mental health support must be offered to affected residents.
Protecting residents from historic and future costs must be a key commitment of new building safety legislation.