Stirling Prize-winning British architect David Chipperfield is head of a raft of architecture, housing and engineering figures to be recognised in the New Year's honours list.
The honours also include a damehood for Arup engineer Jo da Silva and gongs for the founders of 6a Architects, Stephanie Macdonald and Tom Emerson.
David Chipperfield (pictured) has been made a Companion of Honour for services to architecture, one of the highest honours possible to bestow, and which can be held by a maximum of only 65 living people at one time.
The award, bestowed for those making a "major contribution to the arts, science, medicine, or government lasting over a long period of time", ranks him alongside broadcaster David Attenborough, former Beatle Sir Paul McCartney and fellow architect Lord Rogers.
Chipperfield's practice, which he founded in 1985, has been nominated for the Stirling Prize seven times, winning the gong in 2007 for the Museum of Modern Literature.
His projects include the Turner Contemporary Museum in Margate, the Hepworth Wakefiled Gallery and the Kunsthaus in Zurich (pictured, below, left). Chipperfield received both the RIBA Gold Medal and the EU Mies van der Rohe Award in 2011.
Structural engineer Jo da Silva was awarded Dame Commander of the British Empire after founding a not-for-profit subsidiary of Arup set up to improve the social outcomes of projects for people in developing countries. Conferring the honour, the government said "no other individual UK engineer is so personally associated with shifting the approach of a major engineering company to prioritise social outcomes for vulnerable communities in developing countries", and that she was an effective proponent of the "Build Back Better" philosophy of humanitarian relief.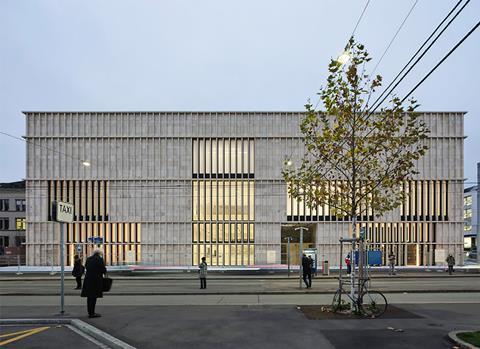 Other built environment figures to receive gongs include the founders of 6a Architects, Stephanie Macdonald and professor Thomas Emerson, who both received OBEs, and Kevin Byrne, managing director of Seymour Civil Engineering, who received the same honour for services to business and skills.
In the housing sector Paul Hackett, chief executive of housing association Optivo and Ryan Kelley, chief executive of Whitmore Vale Housing Association both also received recognition with Hackett receiving a CBE and Whitmore and OBE.
The government handed out awards to 1,239 people in the New Year Honours, with 65% recognised for community work, much of it undertaken during the covid-19 pandemic.
Prime Minister Boris Johnson said: "In a year when so many have made sacrifices to protect our NHS and save people's lives, the outstanding efforts of those receiving honours today are a welcome reminder of the strength of human spirit, and of what can be achieved through courage and compassion."