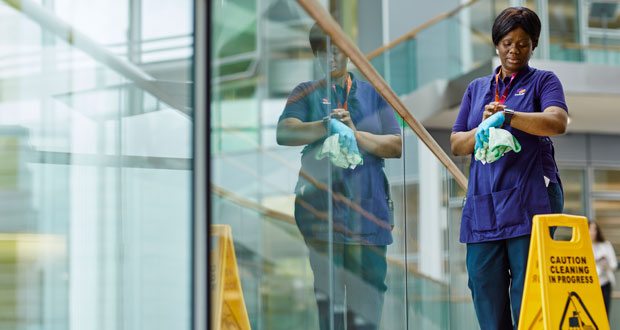 Mitie has been named as a supplier on the Crown Commercial Service (CCS) agreement for Building Cleaning Services.
The agreement allows public sector organisations to easily access suppliers providing cleaning services for sites, including schools, universities and GP surgeries. With the agreement designed to facilitate procurement processes, it also allows public sector organisations to work with cleaning experts in order to review the performance of current suppliers and make recommendations for improvements.
Simon Venn, Chief Government & Strategy Officer, Mitie, said: "Being appointed as a supplier for the Building Cleaning Services agreement builds on our support for the UK Government in the fight against Coronavirus. By bringing the latest in cleaning technology and service innovation – including UV lights to disinfect surfaces and forensic torches to identify spots where bacteria may be accumulating – we can help ensure key sites, such as schools and GP surgeries, are kept clean. We look forward to working with public sector organisations to continue delivering key services to help keep people safe."
Mitie is currently supporting the UK Government and the wider public sector in the fight against Coronavirus. For instance, Mitie is delivering key services, including site management, cleaning and clinical waste management, for more than 100 Coronavirus testing sites across the UK. The company is also providing essential services, such as maintaining production lines in pharmaceutical plants and delivering security services for supermarkets, to help keep the UK running at this challenging time.
Mitie is already a supplier on seven other CCS agreements, including the Vehicle Charging Infrastructure Solutions (VCIS) and the Heat Networks and Electricity Generation Assets (HELGA) agreements which Mitie joined last month.